Thought leadership content shouldn't be a one-time initiative.
It should be part of a campaign integrating various touchpoints and content experiences.
This makes sure you get your message across to all your audience.
But which content format is the best to leverage?
Here are 12 ideas and examples to level up your thought leadership project.
Main thought leadership content format
Let's start with the core format of a thought leadership campaign. These types of content can deliver robust insights in a powerful and accessible way.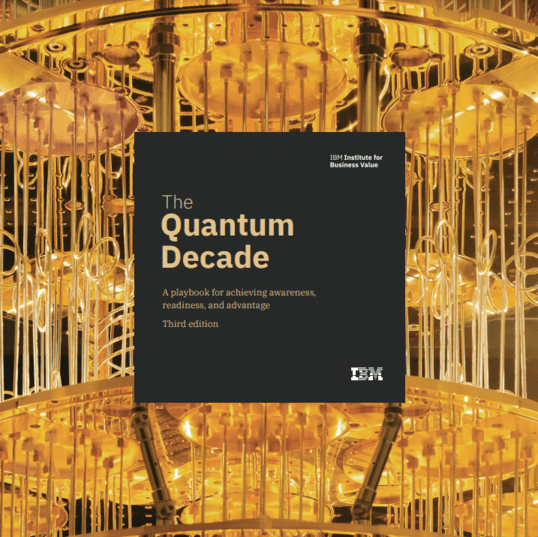 What is it?
An argumentative and evidence-based essay that describes a problem and suggests a solution.
Why use it?
White papers are the best way to deliver deep insights for a B2B audience. It's highly readable, sharable, and you can track down readers and generate leads. They are also the favorite type of format for executives to consume.
Example?
IBM runs its thought leadership factory ("the IBM Institute for Business Value"), which regularly produces high-quality white papers. The "Quantum Decade" white paper is one of them. It prevents executives about the potential business opportunities and impact of quantum computing in the coming decades. To make its argument compelling, it features all the elements of a great thought leadership white paper :
A forward-thinking subject: the impact of quantum computers on core business applications.
Expert content: quotes from SMEs and per-sector business analysis from researchers
Engaging format: graphs and frameworks that explain and present the value of quantum computing
Podcast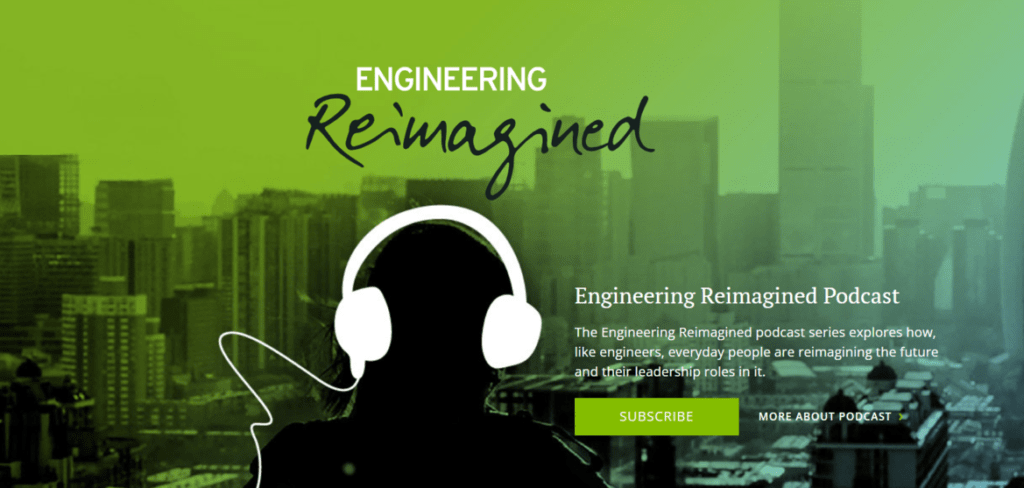 What is it?
An audio show that interviews industry actors about their personal and professional journeys.
Why use it?
Podcasts are an engaging way to tell the story of your industry and address inspiring and innovative business subjects. They can especially build a pool of regular listeners and nurture relationships with your prospects and clients in the long term.
Example?
Engineering consulting firm Aurecon has leveraged an innovative thought leadership format to promote its technological expertise: its podcast "Engineering Reimagined". It appeals to both its prospective clients and future employees with enticing content :
Interview between Auerocon staff and industry experts: engineers, technical or executives
Inspiring stories around current engineering challenges and professional struggles
Episode overview and host questions that take a dive into the interviewee's background, value, and professional challenges.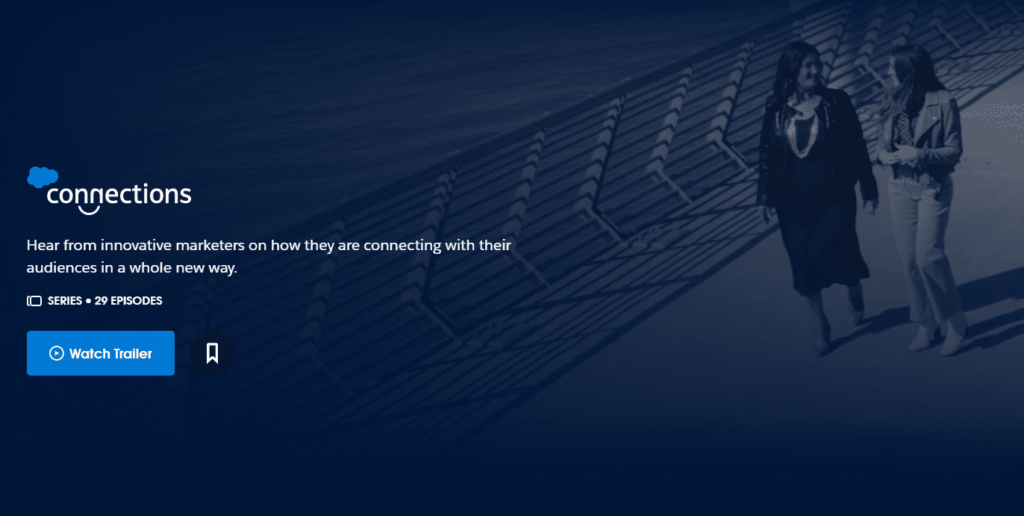 What is it?
Video show featuring SMEs, clients, or notable industry actors asked to talk on important subjects.
Why use it?
Video interviews are a great way to demonstrate the authority of your subject-matter experts on key industry topics, or to inspire your audience with success stories. They are the best format to connect more deeply with your audience and add a human touch to your thought leadership campaign.
Example?
Salesforce is so committed to content marketing that it has built its own branded on-demand streaming platform. One of its programs, "Connections", features marketing executives talking about their way to success. In a very friendly format, these self-driven professionals talk about their backgrounds, aspirations, and struggles in their marketing position. Via this format, Salesforce is seeking to show that it is on the side of the most innovative leaders.
Webinar
What is it?
An educational live event that teaches your audience about a new technology, work method, or market trend.
Why use it?
Webinars are the go-to format to establish a thought leadership practice and regularly deliver insights to your core audience. It's particularly a good way to engage with your audience in real time and gather feedback.
Example?
Intercom is known for its valuable webinar series. Its webinar series "CX for Growth", appeals to entrepreneurs in their startup journey by highlighting the value of nurturing a community. It does so by interviewing real entrepreneurs and the innovative ways they have found to talk to their customers. What makes this casual talk so engaging is that anybody can join and ask questions to contribute.
Book

What is it?
A hundred-page book that addresses a forward-thinking topic with a well-researched and hands-on method.
Why use it?
Books are the pinnacle of thought leadership. They position your SMEs as the top authority on key company subjects and can attract a lot of PR publicity and authority. They are very time-consuming resources to create but are worth the effort if you want to establish your brand in the long term.
Example?
Accenture's consultants are used to and even encouraged to publish books about innovative technology or industry practice. They are usually inspired by their collaboration with various industries and companies on specific issues. In the book "Radically Humans", Accenture leaders Paul R. Daugherty and H. James Wilson envision the future of work and the impact AI will have on company organizations. Their narrative supports the company strategy of helping companies make their AI initiatives focused on human value.
Thought Leadership Hub platform
To widen its reach, a thought leadership campaign needs to incorporate its main resources into one integrated and easy-to-access platform. It's a sure way to keep readers updated and push them for further action.
What is it?
A custom website that puts together all the types of content for your thought leadership campaign. It usually features your white papers, blog posts, videos, and a newsletter subscription form.
Why use it?
Microsites are a must-have to effectively promote and distribute your thought leadership content to your audience. Prospects and clients might easily access your website and see all of your existing resources. They might scroll around and be recommended content that exactly addresses their current challenges. They will also be able to subscribe to an email sequence that gets them updated about the next publications.
Example?
Autodesk launched its microsite RedShift to address all the future challenges of the construction world (sustainability and automation). It features every component of a great thought leadership content hub :
Sections of content by topics of interest.
Clear call to action to subscribe to the newsletters.
Engaging blog layout that features pictures and videos.
Newsletters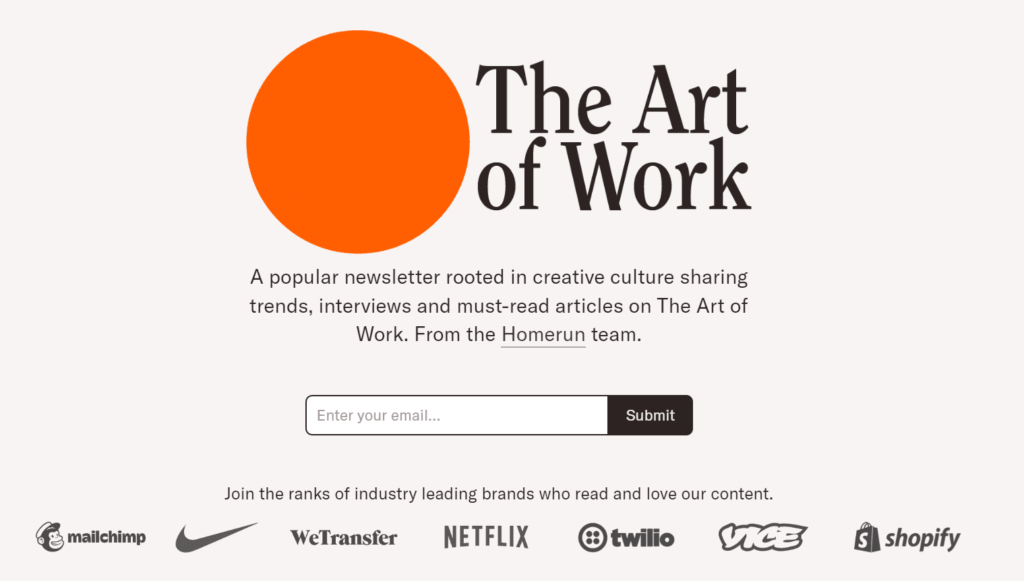 What is it?
Email sequences that keep subscribers informed on the latest publication or provide email-fit custom content that elaborates on your thought leadership themes.
Why use it?
Emails are the best ways to stay in the mind of your audience and ensure your content is visible to everyone. It's also highly scalable. You can add as many subscribers as you can, send them personalized content, and push them to further engagement.
Example?
Homerun is a hiring tool for SMBs that has put all its marketing effort into one valuable medium: the "Art of Work Newsletter". It features its latest blog posts, video interviews, and opinion pieces to help companies improve their hiring processes and find their best talents.
Print or Digital Magazine
What is it?
A periodic web or print publication that showcases your expertise on specific news and market trends.
Why use it?
All content marketers' dream is to build self-serving media. It helps you reach out regularly to prospective clients with high-quality and eye-catching content and establishes you as a definitive leader in your field.
Example?
Capgemini is well known for his forward-thinking resources aimed at executives. Its quarterly magazine "Conversations for Tomorrow" encompasses all of Capgemini's thought leadership initiatives around the biggest challenges of today's leaders. It features words from CEOs, high-profile leaders, researchers and analysts, and insights from the Capgemini research center.
Promotional Thought Leadership content
To promote your thought leadership campaign, you also need small-scale content that shares the key takeaways and insights from your high-scale resources.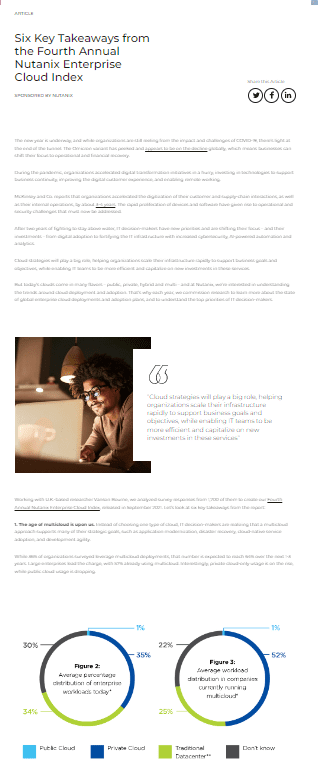 What is it?
Nothing more simple to create than blog posts. They are one-page texts that provide insights into a specific question. They can also feature pictures and infographics.
Why use it?
Blog posts are easy to share and quick to read, so it's a very accessible format. They are also helping you improve your SEO ranking and nurture your newsletters.
Example?
Nutanix annually publishes the "Enterprise cloud report" to explain the latest best practices in cloud management and guide IT managers through their digital transformation. To promote their report, they also create blog posts that present interesting insights in a more digestible and quick-to-consume format. Like this blog post that features 6 takeaways from the report and compelling infographics.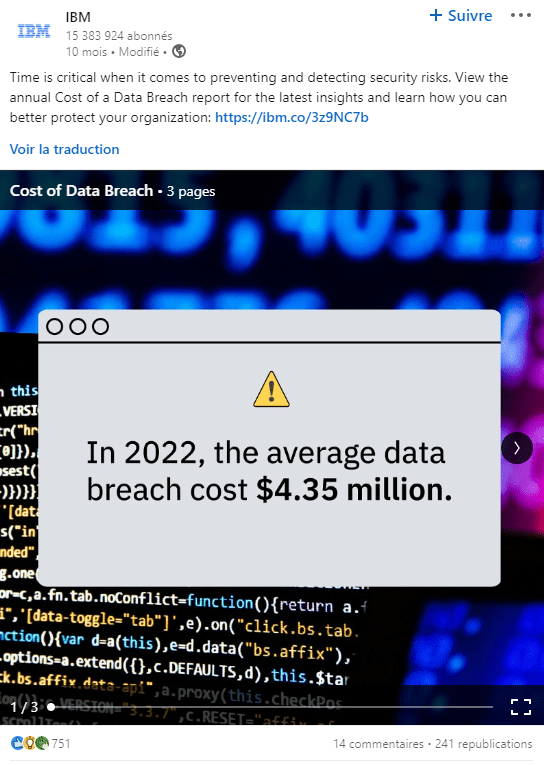 What is it?
An opinion piece that takes a stand on a strategic subject. B2B thought leadership content usually consists of a Twitter or LinkedIn post.
Why use it?
We all scroll through our social media feeds every day. Posting regularly your thought leadership insights on it ensures visibility and can help spark the conversation on your key subjects.
Example?
IBM
IBM is used to publishing every year the cost of a data breach report that measures the impact of vulnerable security infrastructure in big companies. The marketing team promotes this valuable content via a LinkedIn post displaying the most compelling figures from the paper.
Infographics

What is it?
An eye-catching design that presents the key takeaways, data, or quotes from your content.
Why use it?
We remember a picture way more than a thousand words. So it's always a nice addition to promote the key insights of your thought leadership content in a visually engaging format. You'll make sure that your audience carries one or two ideas with them after consuming your resources.
Example?
At the end of the Covid-19 pandemic, Cognizant took the opportunity to describe the new standard of work brought about by remote work. Its thought leadership campaign Remotopia states the challenges of hybrid work and the ways executives can adapt to these new work expectations. Besides providing an e-book on the subject, it also made an infographic on the key data and takeaways. It depicts the rate of adoption of remote work, the benefits and challenges, and some recommendations.
Lead Magnet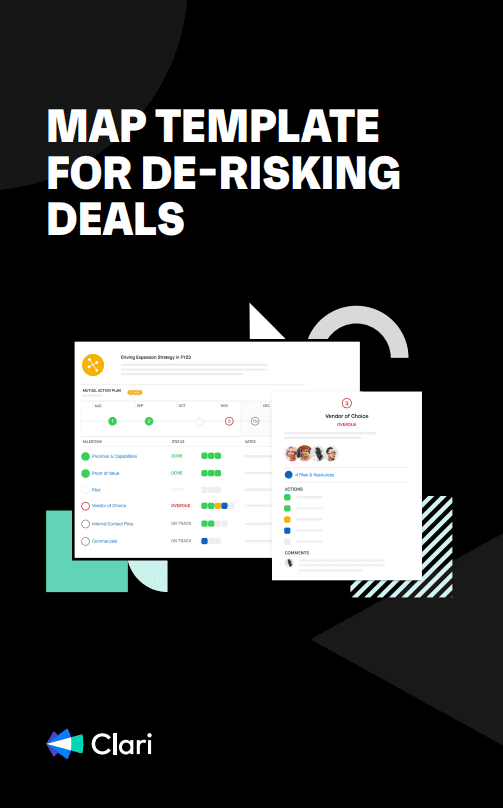 What is it?
A downloadable PDF or spreadsheet that helps prospects resolve a specific problem and provide them with a solution framework.
Why use it?
The vast majority of B2B prospects avoid getting in contact with a vendor before knowing that it's a good fit for them. This means you better encourage them to keep in contact with you when they first consume your thought leadership content. Give them a resource of value for them in return for their contact information, and you'll be able to nurture them throughout the sales funnel.
Example?
Clari's Run Revenue campaign aims to help revenue professionals get a better vision of their sales pipeline. Besides providing educational resources and data-backed reports, it also gives them templates to map out a mutual action plan with prospective buyers. It's an actionable material to make both the seller and buyer accountable for the sales process and make deal closing more predictable.
---
You got now what you were looking for: every type of thought leadership format to get you started!