In recent years, professionals have been used to describe as "thought leadership" any kind of marketing content.
But what qualifies as thought leadership is a rigorously defined marketing practice.
It stands for marketing campaigns that deliver argumentative and research-based insights for B2B buyers.
Here's how you can identify a true thought leadership campaign, and how you can start building your own.
Thought Leadership: Definition & Meaning
Let's get straight to the definition.
Thought leadership is a type of marketing campaign that relies on argumentative and evidence-based content to deliver original insights on a business-critical topic.
The goal of thought leadership is to win the mind of B2B decision makers by providing fresh, relevant, and useful ideas about an issue that currently matters to them.
The most current form relies on research data that helps buyers get a clearer view of the market and make their day-to-day decision.
Originally, this marketing practice was invented by consulting firms. These professional service companies have gotten used to publishing books and resources to showcase their expertise on particular issues among executives.
It's now a common way for any brand to reach out to its audience via intellectually compelling content.
Thought Leadership vs Content Marketing
Thought leadership doesn't look and sound like traditional marketing content. Marketing content aims at educating and entertaining their audience to convince them to buy. It seeks to win the heart of its audience.
In contrast, thought leadership is all about convincing B2B buyers via rational and cold-hearted arguments. It aims to appeal to the mind of its audience.
Here's how thought leadership content compares to traditional content marketing formats :
| | | |
| --- | --- | --- |
| | Content Marketing | Thought Leadership |
| Purpose | Educative and entertaining | Argumentative and inspiring |
| Format | Blog posts, tutorial videos, marketing guides… | Microsites, white papers, video interviews, podcasts… |
| Goal | SEO, lead generation, and nurturing. | Brand awareness, rebranding, lead generation |
| Length | Short and eye-grabbing content (1500-word articles and 10-min videos) | Medium and long format (5000-word article, 10-page white paper, 1-hour video or podcast series) |
The Benefits of Thought Leadership for Your Company
Unlike B2C buyers, B2B buyers are very deliberate about which product/service they want to buy. They are also more skeptical of the influence of sales and marketing materials. So they often seek reliable and well-grounded resources to make business-critical decisions. Thought leadership is the way to provide them with that.
It gives you an edge on many aspects of your marketing plan :
Higher brand awareness: you are known as a leading and forward-thinking brand in your market, and B2B buyers might instinctively be looking for you when seeking information.
More qualified leads: your prospect will exchange their contact information to access your thought leadership material.
Nurturing and staying top of mind: your thought leadership will serve as a touchpoint to keep in touch with your prospective buyers.
Increased lead conversion rate: you might give a compelling picture of what your buyers can expect from you via your thought leadership content.
Does that speak to you? Let's get to the heart of the matter.
Which Formats for a Thought Leadership Campaign?
The written medium is not the only way to convey a new point of view or present the findings of a research paper. Thought leadership can take many formats and be promoted in many channels. According to your audience preferences and your marketing channels of choice, here are the different formats that you might choose (keep in mind that they can be complementary):
| | | | |
| --- | --- | --- | --- |
| | What is it? | Why use it? | Which Promotion Channel? |
| White paper or e-book | An argumentative essay structured around a problem and a solution. | To present a compelling take on a business-critical issue via a shareable and easy-to-read format. | Corporate newsletters, blog, SEO. |
| Microsite | A custom website putting together different types of content (blog posts, newsletters, e-books) addressing a common topic of interest. | To create a resource center where your prospects and readers can consume your thought leadership and subscribe to your next publications. | SEO, redirection from company website, and newsletters. |
| Video series | A sequence of videos that are reporting or interviewing experts on a critical subject. | To tell a story that matters to your audience in an engaging format. | Newsletters, YouTube, LinkedIn, and other social media platforms. |
| Podcast | a series of audio recordings that are telling a story or interview experts on an important and forward-thinking issue. | To build a regular and story-driven stream of content around your thought leadership. | Streaming services, newsletters, website. |
You can find a more detailed comparison of thought leadership formats here.
How to Plan Your Thought Leadership Campaign: a 5-step Method
A thought leadership campaign is a complex and ambitious project. It requires a lot of human resources and close coordination of all your actions. You might as well prepare yourself with a well-thought-out content plan. Here's a step-by-step approach to getting started:
1. Choose a strategic and relevant topic for your audience
The first step is to find the right topic for your thought leadership campaign. You might identify a subject that is both of critical interest to your prospects and aligns with your company's unique expertise and perspective. The ideal topic sits at the crossroads of these two criteria.
You might also gather your subject-matter experts and executives to agree on the point of view you want to undertake. Having internal advocates can help you get your message across and secure funding for your project. Also, consider the audience you want to serve (CEO, CFO, CTO, CMO, other B2B decision-makers), as each group will be looking for different information to meet their business goals.
Finally, you might keep your campaign goals in mind, whether it's generating brand awareness, promoting a new product line, or renewing your brand identity on forward-thinking subjects. That will also define the main subject you want to address.
2. Establish an internal Thought Leadership Research Center
Thought leadership campaigns require a variety of internal and external talents. You'll need help from subject-matter experts to provide facts, evidence, and a unique perspective on your subject. So you might as well consider creating a research center that continuously produces studies, surveys, and customer stories around a specific topic. This may be energy-intensive, but it can be worth it to promote your internal expertise.
You'll also need help from copywriters, designers, web designers, and digital marketers to write, design, promote, and measure your content initiatives. You might recruit external freelancers with thought leadership experience and put them together with your existing marketing team.
Organize a kick-off meeting to bring together both the creation and research team and present the project and outline key deadlines.
3. Make a Thorough Content Plan
A thought leadership campaign is all about strategy and planning. You want to outline all major deadlines, define regular follow-up meetings, and coordinate teams together to be sure to ship your project on time.
That means agreeing with your team on a common schedule by checking the availability of everyone involved. It also means setting the frequency of thought leadership publications. Since thought leadership content often requires more time and effort to produce, decide on a realistic publication frequency that allows for in-depth research, expert interviews, and content creation without compromising on quality. You might also set the promotion of your thought leadership content to coincide with industry events, trends, or news, ensuring that your content is timely and relevant.
Additionally, you might also organize cross-team meetings where everyone has the opportunity to speak and regular meetings for each creative and research team. Keeping every team updated about the progress ensures everyone is heading in the right direction.
4. Create and Proofread Your Content as You Go
The creation process is often the hardest part. You need to compile the raw findings of a research, experiment, or case study into a well-argument essay and a compelling story. You also need to provide insightful recommendations to your audience. This is not an easy feat!
To streamline the content process, you might organize a gradual and collaborative process. You might let your writers interview your subject-matter experts or ask them about an analysis of their research has to offer. Additionally, you might start to write a first synopsis, then an outline, then a first draft for your white paper, blog post, or video script reviewed by your SMES. That will ensure your writers are meeting your quality requirements and that everyone on board is agreeing with what is created.
You might also involve your designers early on to build your visual materials and craft engaging infographics. Finally, you might brief your marketers' way before the actual publications to plan the promotion and measurement phase.
5. Think about Activation
Exceptional thought leadership won't sell by itself. It's unfortunate, but it's true. That's why you ought to consider the way you're going to activate your thought leadership campaign.
For that, you might think about recycling your content in many formats and channels. You might turn your white paper into several blog posts inspired by it. You might involve your SMEs to post on social media. Additionally, you might interview your experts via videos or in different podcasts and events.
You might also design a microsite to get all your content in one place and encourage your audience to engage, react and comment. Finally, you can also use a newsletter as your main distribution channel to keep your audience in touch about your next publications.
5 Great Examples of Thought Leadership Campaigns
Phillips Future Health Index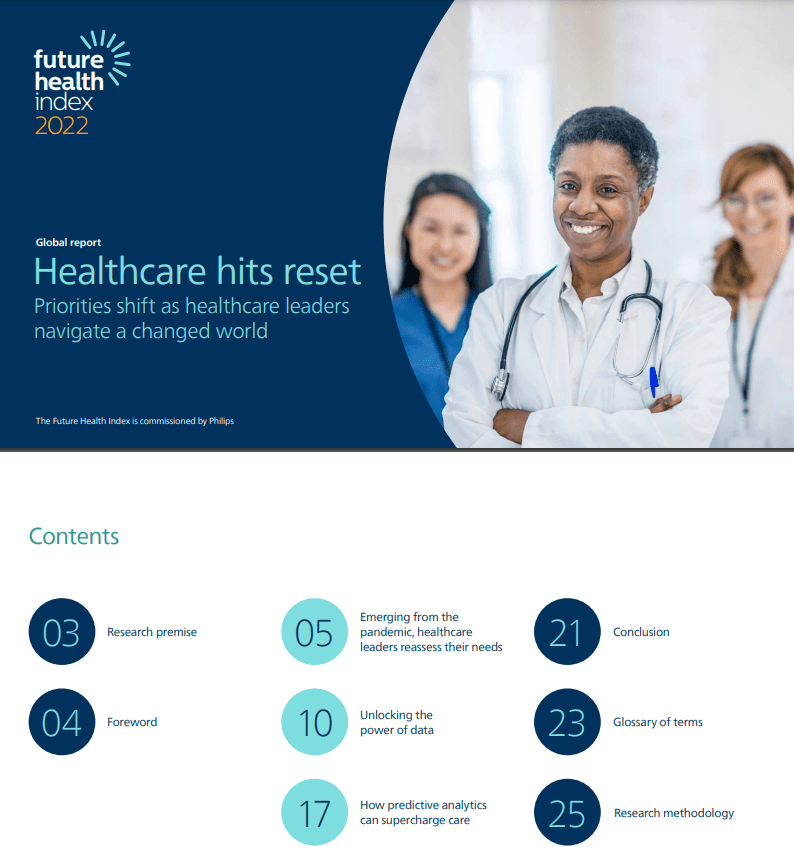 Since the 2000s, Phillips has always wanted to focus more on its B2B activities. Businesses were used to seeing it as a consumer brand and they didn't really care about Phillips products targeted to them. So to shift that perception, the company launched a thought leadership program on the global impact of its product on health and well-being. One of the components of this campaign is its annual "Future Health Index".
This report aims to provide insights into how healthcare leaders worldwide are navigating the demands of a fundamentally changed world. It is based on rigorous surveys that interview nearly 3,000 healthcare leaders across 15 countries to reveal how they are harnessing the power of data and digital technology to address their biggest challenges.
It gives recommendations on how health professionals can harness the power of data and digital technology to address their biggest challenges. It has proven itself as a popular material for healthcare executives and a great way for Phillips to promote its leadership in medical technology.
Deloitte – Tech Trends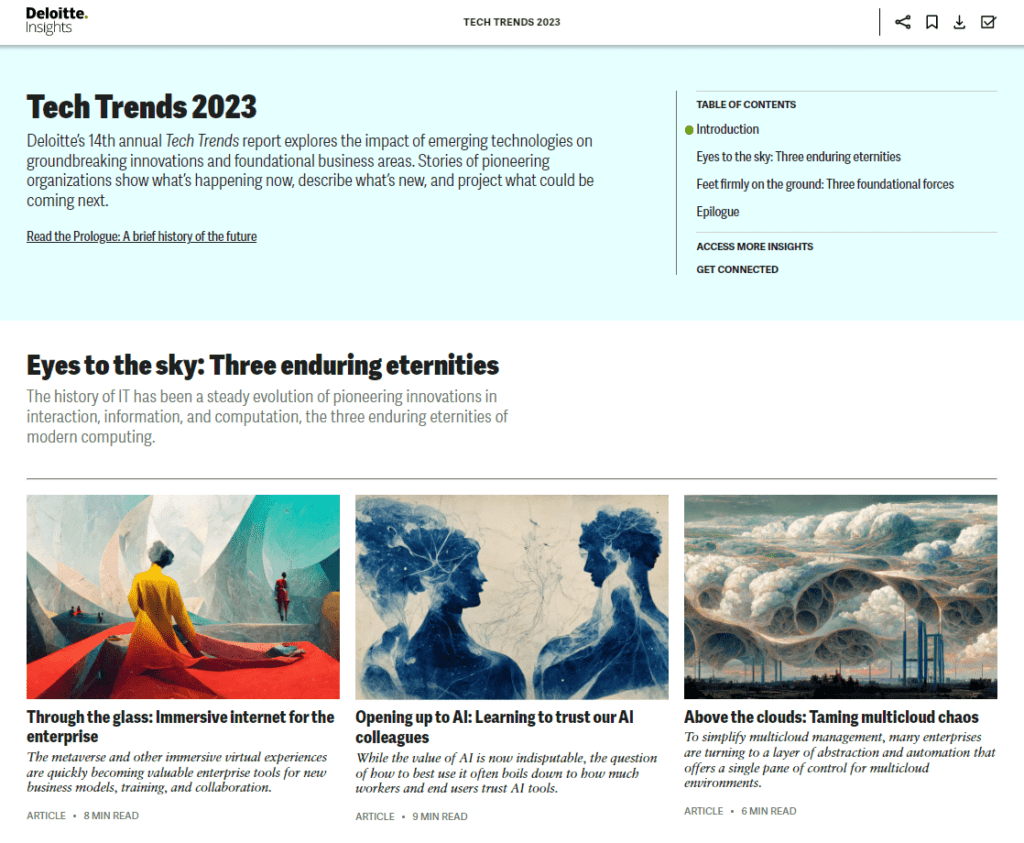 Consulting firms usually deliver exceptional thought leadership campaigns. And Deloitte is no exception. With its annual "Tech Trends" program, it explores the impact of prospective technologies on various sectors and business issues.
The report relies on the insights and data from its team of researchers continuously monitoring every new promising technology. From that analysis, it explores the key trends expected to shape the way executives are leading their companies. It helps them unlock new innovations and engineer advantages for the continual digital transformation of their company.
The campaign leverages many formats and channels:
The Deloitte website presenting every topic into an engaging experience.
The downloadable Tech Trend report that goes in-depth on every subject and provides appealing infographics.
A collection of blog posts that make every insight accessible in a friendly format.
Webinars and events that keep their audience.
It's truly a forward-thinking multichannel thought leadership campaign!
Content Marketing Institute Benchmark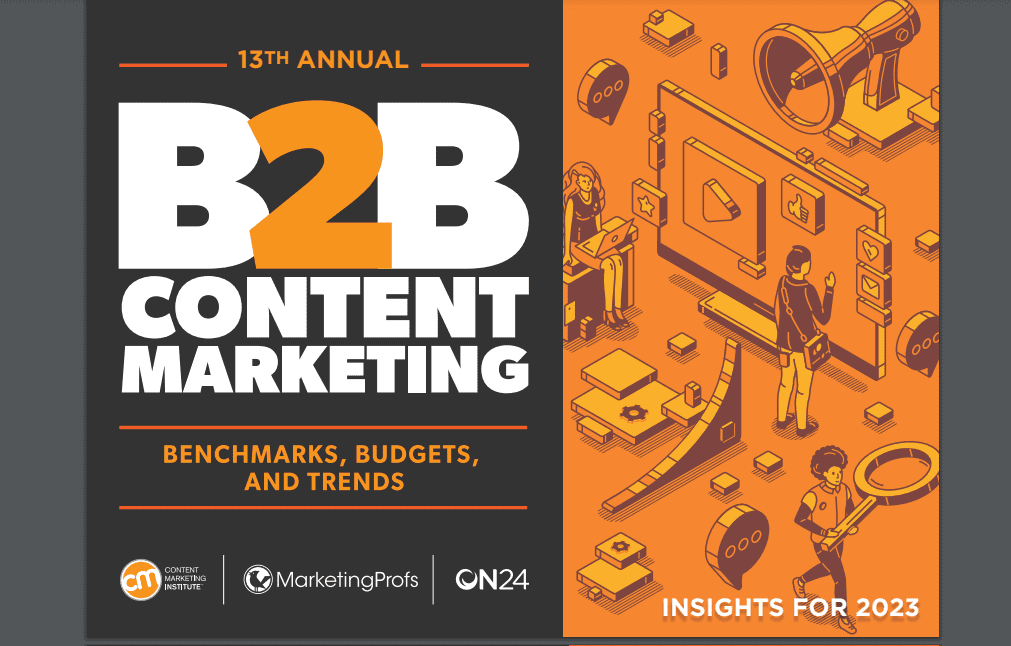 For many years now, the Content Marketing Institute has been publishing its annual benchmark around content marketers' best practices. They have become widely known for that piece of content and developed true authority in the field.
This white paper demonstrates several features of great thought leadership content:
Comprehensive data: the white paper addresses various challenges B2B marketers face in their content marketing projects, such as staffing, budget, performance metrics, and operations.
Data storytelling: it features clear and engaging graphs, along with explanations that help readers understand the data easily.
Key takeaways: it offers key takeaways for marketers, providing insights on areas for improvement and highlighting upcoming trends in the industry.
Analysis of the best performers: by examining the practices of top-performing B2B marketers, the white paper offers insights into what works well and what can be emulated to achieve success in content marketing.
Clari Run Revenue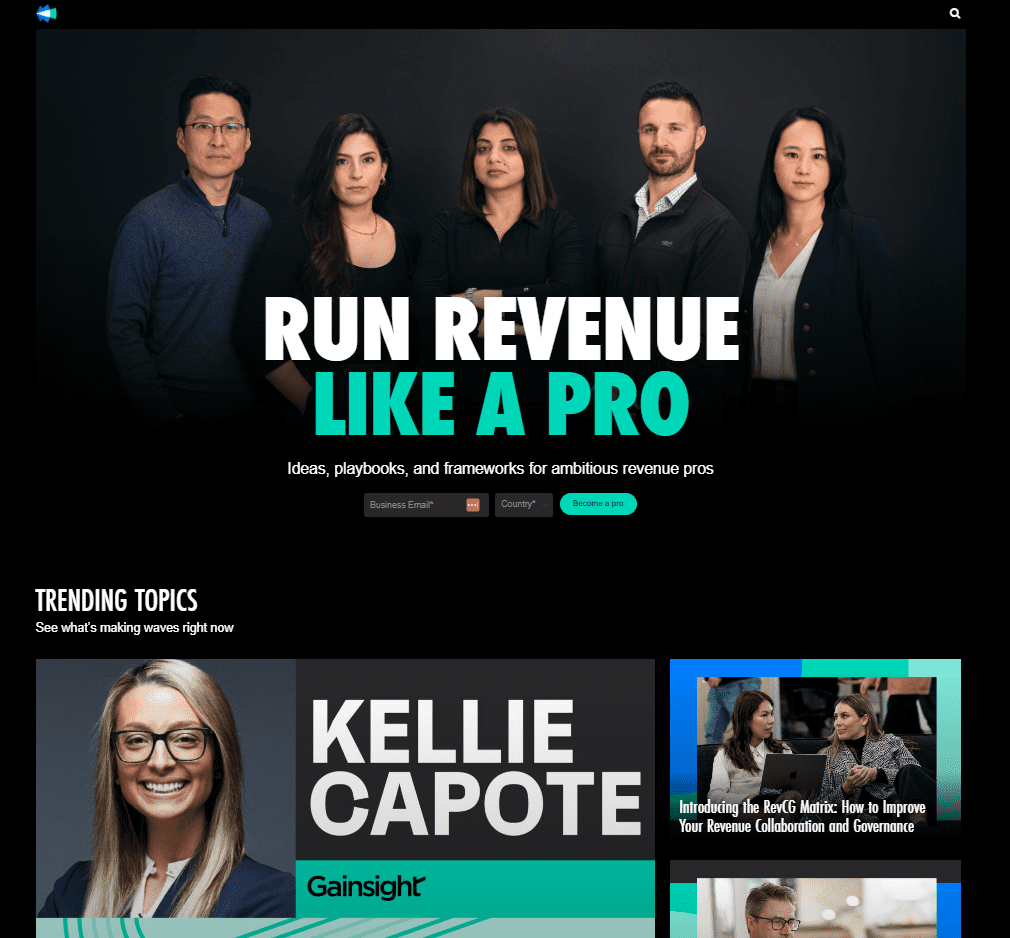 Thought Leadership is also for smaller companies like startups and scale-ups. And Clari is one example of that. Clari is a sales-focused SaaS company that has been one of the pioneers in what we call now "revenue intelligence". It has realized how damaging unpredictable revenue is for businesses, and has been at the forefront of a new emerging profession: revenue managers.
To demonstrate their leadership on these key subjects, they launched in 2023 their campaign "RunRevenue" destined for revenue professionals. It aims to help them get a systematic and scientific approach to revenue management.
The campaign features every kind of format :
A microsite that enables every visitor to subscribe and get a quick overview of every piece of content.
Blog posts that present current trends in the revenue field.
A video series and a podcast that interviews revenue professionals on their challenges and solutions.
Actionable playbooks that provide templates to help sales executives better track and measure their revenue.
With a content-based approach, this campaign shows that you can also do thought leadership with fewer resources.
Siemens – A new Space Race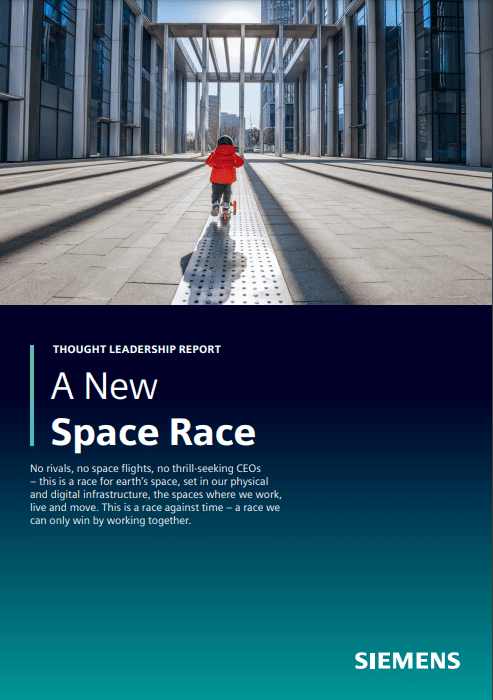 To assert its position as a leader in smart infrastructure, technology company Siemens launched a thought leadership campaign with a catchy and original idea: the real space race is not in the sky, but here and there on Earth. It raises awareness of three new challenges for infrastructure stakeholders (physical, digital and ecological) through a branded website, a study-based report, and insights delivered in different formats and channels. It also launched an ongoing podcast interviewing actors of the innovation in infrastructure.
All this content relies on both quantitative studies asking how infrastructure stakeholders view the immediate and longer-term future of their built environment and energy systems and on a series of interviews with professionals from big companies.
The campaign helped Siemens to become an active part of the discussion around sustainable and resilient infrastructure and attract even more visibility over its smart products, solutions, and services.
---
Now you know what thought leadership is. Ready to leverage it for your business ?