In a crowded landscape, thought leadership is more than ever about staying on top of the latest news.
You want to speak out on topics that are immediately relevant to your audience and resonate with their pain.
But which topic will best position you as a thought leader today?
Here are the hottest topics on readers' minds in 2023, but also how to find and dig into your own unique niche.
What is an excellent thought leadership topic?
Let's break it to you. To achieve thought leadership, you don't need groundbreaking and innovative ideas. In fact, you can build authority to your core audience by talking about fairly familiar subjects to them.
The only requirement? You need to discuss these subjects in a compelling and authoritative way. In other words, you need to convince professionals with strong and insightful arguments.
Yet, there are many possibilities of subjects that you can tackle. So how to find your niche topic that will resonate with your core audience?
The best thought leadership topic for your company matches several requirements :
Customer hot issues
Customers always have something troubling their minds. Preparing the next sales period, managing a merger, onboarding a new client, or recruiting better talents? They all have an issue they worry about on a regular basis. You need to know what that is so that you can place yourself as the solution to their pain.
Industry Megatrends
In every industry, there are always major trends that are shaping the evolution of your market. This can be technological adoption, changes in customer behavior, seasonal or one-time events. These trends are important because they are defining which companies will lead the way and which will fall behind in the future. There are shaping the industry for the long term. So you better make sure to be a prominent voice around these topics.
Company's specific expertise and knowledge
Every company has grown over the years a vision of its market, product and customer that is unique to them. Your company is no exception, and it's your job to reveal and promote this precious business knowledge and practice.
What's your product's main edge over your competitors? What's your superior expertise on one technical or business problem? What does your company know about your customer's issues that no one knows?
These are the topics that will win the minds of your audience.
Is your topic both immediately relevant to your customer, interprets an industry major transformation, and highlights your internal expertise? Then you found yourself a powerful thought leadership topic!
2023 Thought leadership topics: 8 ideas and examples
In 2023, a wide array of technological, societal, and environmental changes are transforming the way we do business.
Here are the 8 most prominent ones, that can provide ideas for your next thought leadership topics.
How to use these examples? Think about the impact of these subjects on your customers' daily practice and see whether you can address them in a compelling way. Take also inspiration from the examples of companies that successfully spoke out on the subject.
AI adoption
AI craze is at its peak today, so it makes sense to explore how your customers can leverage these new promising technologies. You want to demonstrate not only how generative AI can streamline their day-to-day task, but also how they can integrate them into their existing work organization and train their workers on it.
Example:
McKinsey often delivers masterclass content on trending business topics. Its report on the economic potential of generative AI is one of them. Featuring detailed research and compelling data, its findings have been widely shared in the media and among executives. It achieved to put concrete figures into the business impact of AI.
Purpose and corporate sustainability
Sustainability is a top priority on executives' agenda, and it will continue to be so in the years to come. Talk about how your customers/prospects can reduce their carbon footprint in their particular sector and make it an integral part of their strategy. You can also show them ways to promote their ESG initiatives to their own customers and employees.
Example :
Deepki, a fast-growing green startup, knows how crucial ESG metrics are for real estate organizations to attract investors. Its report provides fresh data and insights into the sustainability of construction, and how to reduce carbon footprints.
Hybrid work

The COVID-19 pandemic has challenged traditional ways of working, and its implications are still much under debate within companies. It's still difficult for managers to strike a balance between the needs of employees for flexibility and the imperatives of business as usual. You will reach out to a wide B2B audience by talking about how to adapt work organizations to new hybrid settings.
Example :
Gusto has conducted its own study on the state of hybrid work for SMBs. It provides a comprehensive survey highlighting the competitive edge that remote work brings to these companies. With compelling figures and takeaways, it's an evidence-backed roadmap to hybrid work.
Diversity, equity and inclusion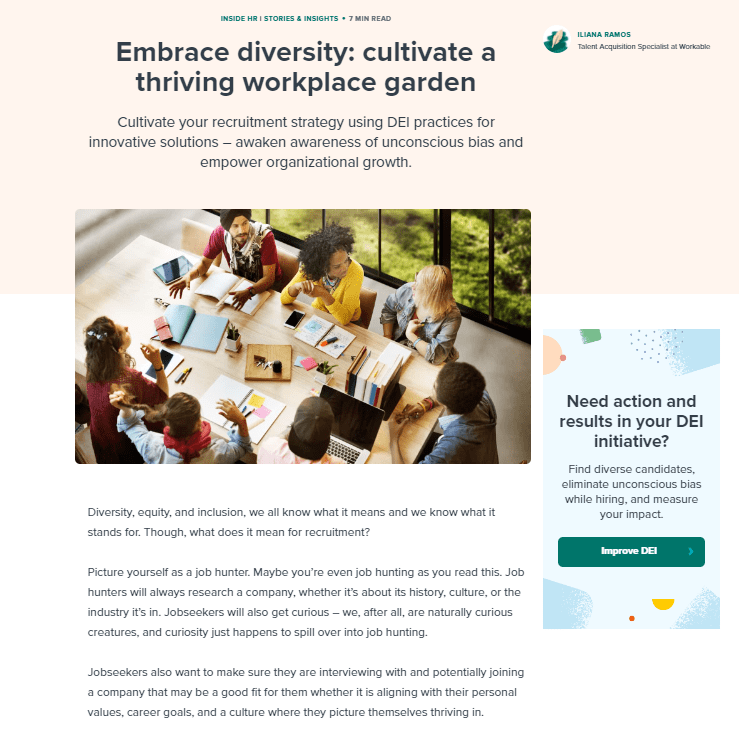 DEI is a vital part of any vibrant company culture, and it goes beyond the HR department. Organizations can benefit from a broader variety of talents but also from giving their employees equal opportunities and career growth. If you want to build authority on work-related topics, you might talk about how to promote cultural diversity and fairness within companies.
Example:
Workable often writes authoritative articles about DEI. In this piece, it highlights the importance of diversity both in recruitment strategies but also in establishing a company culture. Putting forward the value of a "culture add", it shows that a vibrant organization goes beyond cultural and job fit.
Personalization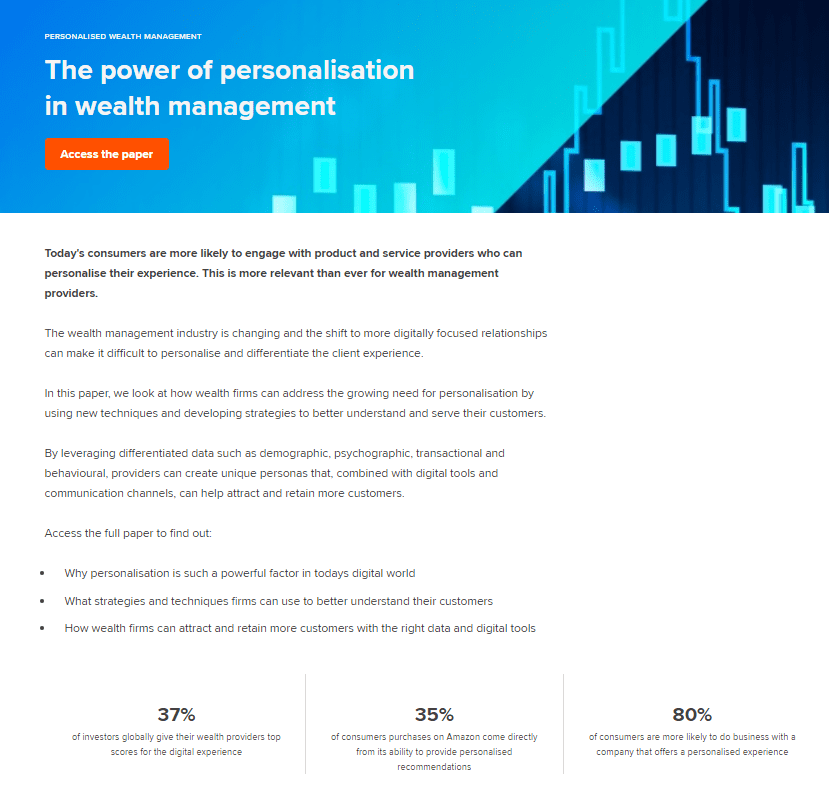 Consumers' expectations are rising every year, and there is one thing they constantly crave: personalization. Consumers want to feel like the products they're buying are specifically designed for them and are tailored made to their unique lifestyles. You will definitely catch professionals' attention by sharing your expert take on how companies can personalize their products and communication.
Example :
Wealth management is a sector that is not immune to the customer's new needs and aspirations. Investors want to feel like they are talking to a unique expert and that one person shows real care for their financial situation. Refinitiv shares in this white paper how wealth firms can build this experience and take the road to digital transformation.
Cybersecurity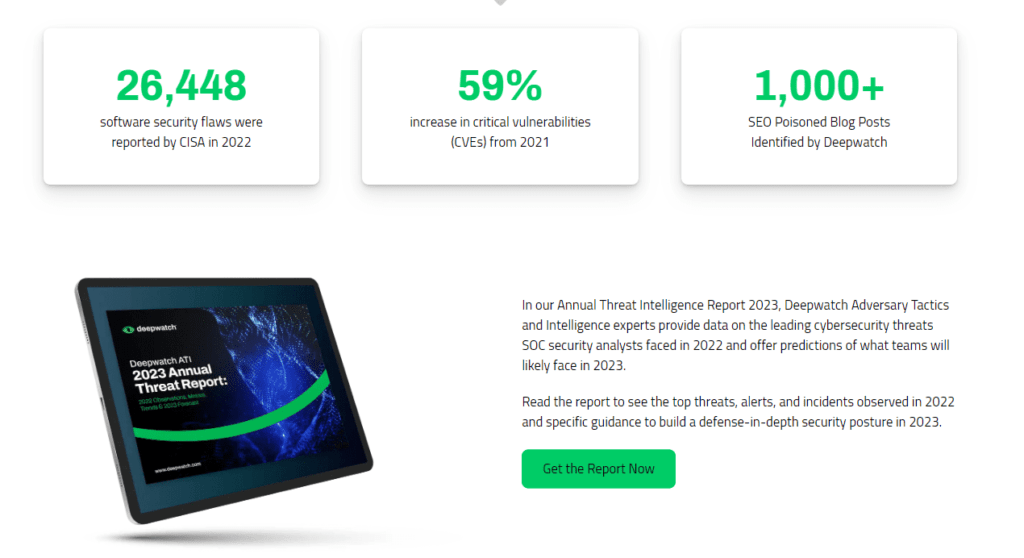 Cyber threats are growing in number every year, and businesses have never been less prepared. No wonder cybersecurity has become a number one issue for executive boards. IT company leaders are desperately looking for solutions to minimize risk and train their employees. Your chance to keep their attention with crucial insights on the subject.
Example:
Deepwatch is a company that provides numerous robust resources on cyber risks, especially for small businesses. In this extensive benchmark, it reports on the latest threat, innovative solutions, and best practices. It enables businesses to rank their cybersecurity strategies and assess their strengths and weaknesses.
Customer experience
The user experience (UX) imperatives were first a topic for designers and now the entire industry is embracing it. Now companies are hiring Heads of customer experience (CX) to streamline their digital transformation, manage customers' complaints and build experiences that users can enjoy. You might advise them on their way to scale up their customer service and build digital journeys.
Example :
Medallia is a long pioneer in customer experience, and more specifically in the collection and management of customer feedback. In this guide, it shares the benefits of customers listening to automotive brands. The automotive industry has long struggled to take into account customer feedback, and Medallia is showing them a way to better understand them and encourage customer loyalty.
Data & cloud computing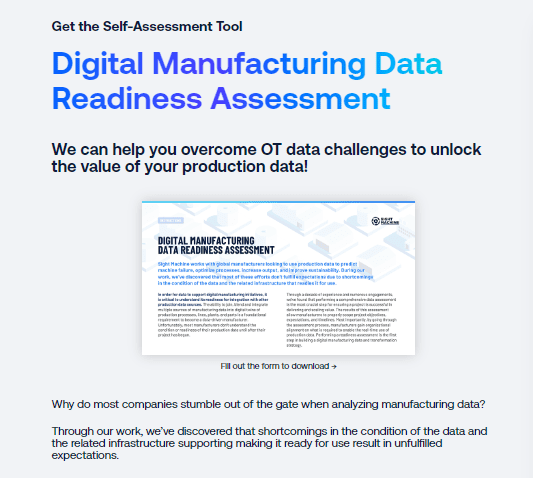 Digital transformation is still a high-priority goal for businesses today. They want to keep up with the competition by leveraging the data of their customer and operations. No wonder cloud, data analytics-management solutions are at the peak of their hype. Share how companies can choose and implement these tools in their tech stack, and they will listen to you.
Example:
The use of data analytics is a vivid need in manufacturing. Factories want to increase the intelligence of their process to maintain machines predicatively, improve quality control, and speed up operations. Sightmachine provides here a tool for manufacturers to know where they stand in their digitalization journey.
---
There you have them, 8 meaningful topics for your next thought leadership content!