These days it's tough to stand out as a tech brand. As the landscape is getting increasingly competitive and new technological innovations are emerging every day, your buyers are struggling to keep up.
It doesn't help that your product is often virtual, and the benefits are hard to grasp. So how to sound more than one other software in your prospects' stack?
One way is to bet everything in content marketing. Well-thought-out content initiatives establish your brand as an expert in your field and grant you unlimited growth potential.
Ready to get started? Here's your guide to a successful tech content strategy.
What are the specific benefits of content marketing for tech brands?
Whether you are an IT, startup, or software company, you all need to build a strong brand to sell your new technology and scale your business model. Content marketing is one powerful way to gain brand and product awareness at scale. Essentially, you're creating a branded media machine that promotes your technology to an ever-growing audience and enables you to reach qualified buyers.
Especially in B2B, that's a still underestimated tool. Content marketing for your tech brand helps you to :
Differentiate yourself in a crowded market.
Educate your audience about your technology and sell the story behind it.
Be helpful to your target audience.
Achieve your growth goals via viral inbound reach.
Building an awesome tech content strategy: 6 recommendations
All good content marketing initiatives start with a well-thought-out content plan. Here are 6 recommendations to make content the centerpiece of your tech brand:
1. Sell your innovative brand identity
Tech companies have one thing in common that other companies don't: the story of their technology inventor. This is the source of drive for innovation in the company and a great way to start building your brand on solid foundations. You want to highlight how you're changing your market with your advanced software or expertise. But this shouldn't look like an ordinary fundraising pitch.
You can encourage your technical teams (CTO, product manager, engineers) to speak up in interview videos to talk about new features. You can set up a bold vision of the future of your market via your website, white papers, and articles. You can let other innovators and thought leaders speak through your podcast or webinar initiatives. But whatever the medium keep your innovative vibe well alive.
2. Make the Technical Accessible
Tech brands can easily get lost in the technical details. But guess what? None of your audience has time to figure out what you're selling and how it can benefit them. Even if you're selling to knowledgeable buyers, they'd rather consume content that is easy to read and straight to the point. So you might better focus your content strategy on educating your audience on technical terms. Your content might serve to explain to them how your solution works, what their common use cases are, and which results they can expect from using them.
For example, your blog needs to be the main educational resource center where you explain to them the basics and most advanced notions around your product. Through that medium, you might suggest articles that address every question your new prospects are asking you. You can also use how-to and tutorial videos to make hard-to-grasp concepts easy to understand. Your content will be the way to make the technology accessible to anyone.
3. Deliver expert and thought leadership content
One of the factors that makes tech companies so attractive to the public is their technological expertise. Who knows what the next technological innovation will bring to the world? That's especially the case in the B2B field. B2B buyers are looking for an expert that knows their stuff inside and out and can resolve their problem with a well-engineered solution. So you better use your content marketing to showcase and help them resolve tough issues with brilliant solutions.
You can create articles that go into depth on key issues and deliver concrete recommendations. You can also go further by embracing thought leadership content. Thought leadership is all about argumentative and research-based content. You can build a research center that analyzes the latest trends in your market to build your reputation. You can share your findings in a well-designed and written white paper. You can also interview experts in your fields to craft a compelling essay about a new technology, product, or use case.
4. Showcase your product
Yes, your tech product is rarely a tangible tool that you can hold in your own hands. That doesn't negate the fact that tech buyers want to see and test your product in action. They want to feel the benefits of your software. And your marketing content is the best way to do that.
You might develop a series of tutorial videos that demonstrate various use cases and highlight the benefits of your product. That means breaking down complex processes into easy-to-follow steps via visual animation. You might seamlessly integrate product features and benefits into your blog articles to showcase their relevance and applicability to the topic at hand. You also might craft compelling case studies and invite your customers to talk about how they've leveraged your tools to achieve quantified results.
5. Engage with your developer community
A community of technical professionals is a valuable asset for any tech brand. After all, they are the ones who ensure your solution well integrates into their company infrastructure. So you have every reason to specifically create content for them. You can plan a content strategy that not only appeals to developers but also fosters collaboration with the developer ecosystem as a whole. That means offering valuable resources like code samples, API documentation, and SDK guides, provide comprehensive tutorials, walkthroughs, and troubleshooting tips.
You might also consider creating a knowledge base or wiki where developers can easily access and contribute to these resources. Another related idea is to participate in Forums and Q&A Sites on platforms like GitHub, Stack Overflow, and other industry-specific forums. Finally, you might establish a developer advocacy program to provide them with resources, support, and opportunities to share their expertise, further amplifying your brand's presence within the developer community.
6. Embrace data-driven storytelling
Technology is all about numbers. That's why, when potential customers are looking to buy a new technological product, all they want to know is its quantified impact on their business. They want to see tangible evidence that you're making their processes better. So you better make sure to present compelling data in an engaging format.
For example, you might share quantified case studies. Show them the challenges your customers faced, the solutions your products provided, and the quantifiable results they achieved. You might also leverage the storytelling power of infographics. You can use them to present complex data in a digestible format, allowing your audience to grasp the key insights and benefits quickly. You might finally adopt data visualization tools. Interactive charts, maps, and graphs enable your audience to explore the data themselves, making it a more engaging and immersive experience.
7 powerful ideas of tech marketing content
There are plenty of content formats and channels to attract and educate your audience about your innovative technologies. Let's see the most engaging and ROI-oriented examples :
1. Benchmark White Paper
Benchmarks are one of the most popular white paper formats for tech brands. It's the best way to showcase key industry trends, explain the benefits of emerging technologies, and demonstrate the best practices of the most tech-savvy companies.
This type of research report can also provide actionable insights and data-backed recommendations, that can be very valuable to potential buyers looking for guidance. Benchmark white papers are a long-lasting material that can generate leads, drive website traffic, and enhance your tech brand reputation significantly.
2. Video Demos and Tutorials
As I've told you before, buyers want to experience by themselves the features, capabilities, and benefits of your tech product. And for that purpose, video product demos are the best visual and engaging content marketing format.
These demos allow potential buyers to see the product in action, helping them better understand its value proposition. They can also serve educational and SEO-driven goals by providing video tutorials for the most common use cases of your prospects. It's a cost-effective content format that can replace in some ways 1-to-1 demos and generate more qualified leads.
3. Webinars
Live content is also a huge part of tech content marketing initiatives. And that's especially the case with webinars. These live events enable you to deliver educational presentations, expert insights, and facilitate audience interaction.
For example, you might use webinars to explain basic notions and raise awareness of some current problems in the industry. You might also showcase your tech products and explain some compelling use cases for your prospect. Finally, you might engage with your prospects through live polls, Q&A sessions, and feedback. That way you can identify knowledge gaps, common pain points, and areas of interest, and foster a sense of community. All of that helps you attract qualified leads and enhance your brand credibility.
4. Thought Leadership Website
Thought leadership is more than a fancy way to call innovative content marketing. It's a strategic approach to delivering original and well-researched insights for your prospects. And it's particularly effective for tech brands, Through a thought leadership program, you can especially demonstrate your company's technological expertise and drive industry discussions.
One trendy thought leadership method is to create a dedicated website around forward-thinking topics such as emerging technologies, recurring issues, or new applications within your industry. This resource center can feature research reports, blog articles, and expert posts that comprehensively cover the subject matter. By allowing readers to subscribe to a newsletter, you can also keep them informed about the latest content and developments.
Implementing a thought leadership strategy not only helps differentiate your tech brand but also generates more qualified leads who are genuinely interested in your innovative subjects and methods.
5. Branded Blog
Every tech brand knows the potential of a blog as a premium content channel. Yet, many branded blogs end up resembling uninspiring archives of outdated articles. Brands often cram all their content in one place without much coherence, assuming visitors care more about the content than its presentation. But by transforming your blog into a captivating experience, you can infuse purpose into your content initiatives and encourage visitors to delve deeper into your website.
To do that, you might need to set a compelling goal for your blog, like demystifying a cutting-edge technology or tackling a pressing industry issue. You might also design your blog as a dynamic platform where users can effortlessly discover content that resonates with them through a clear content pillar structure. Additionally, you might make it easy for visitors to follow up and subscribe to your latest updates.
By revamping your branded blog into an engaging and immersive experience, your tech brand will not only captivate potential buyers but also make a lasting impression in the competitive tech landscape.
6. Inspiring Newsletter
Newsletters are an old content marketing method, but still relevant and effective. It's especially a way for tech brands to stay in the minds of their prospects and users.
Through your newsletters, you can showcase the latest developments in your tech products or services. By highlighting new features, enhancements, and bug fixes, you can give your users practical tips on how to make the most of these updates.
You can also offer exclusive access to beta tests and trials. This can help generate excitement and anticipation for upcoming product launches but also provide valuable user feedback for product improvements. You might also convey educational content through your newsletters to address the new challenges of the industry or emerging technologies. This might demonstrate your expertise and commitment to advancing the field, making your brand more appealing to tech-savvy audiences.
7. Story-driven Podcast
You can't miss them: podcasts have become increasingly popular. As a tech brand, you might make the most of their wide appeal. You can leverage podcasts to inspire your audience through storytelling around your technology and showcase your expertise. For example, you might share founder stories. That means diving into the personal stories of your company's founders, focusing on their passion for technology, the challenges they've faced, and the lessons they've learned along the way. This creates an emotional connection with your audience and humanizes your brand.
You might also feature interviews with industry experts: Invite thought leaders, influencers, and experts in your field to share their insights, opinions, and experiences. These conversations can offer valuable perspectives, spark meaningful discussions, and enhance your brand's credibility.
Finally, you can also present behind-the-scenes content: Offer listeners a glimpse into your company culture, product development process, or team dynamics. Sharing these candid stories can foster a sense of authenticity and trust, making your brand more relatable and approachable.
6 examples of great tech content marketing initiatives
A Thought Leadership Website – Gong Labs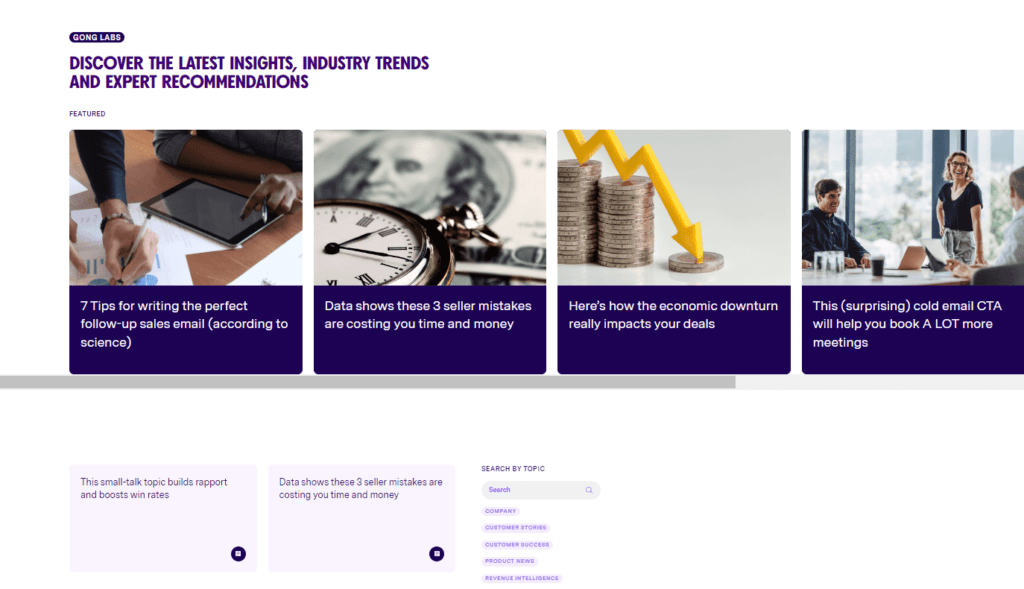 Gong is a company that helps sales managers analyze their revenue performance thanks to AI. To get an edge over the competition, they created a resource center dedicated to sales best practices called Gong Labs. They leveraged their own database of sales conversations to discover the key psychological factors that drive sales. They created blog posts, marketing guides, and even a podcast to share actionable advice with sales reps.
They put all their content together into a thought leadership website that highlighted their key point of view: a data-augmented sales approach. Gong Labs become widely popular in the market and generated a lot of subscriptions to the Gong newsletters (that also relayed compelling content) and attracted numerous leads. It is one reason Gong became one of the fastest-growing tech companies.
Inspiring Video Storytelling – Intel's Meet the Makers
In 2016, the leading technology company Intel launched a video series called "Meet the Makers" to showcase the talent of people who utilize Intel's technology. In very short videos, they interviewed tech innovators and entrepreneurs to talk about how they used Intel technology to make innovative or original products. They wanted to inspire and educate viewers by celebrating innovators whoever and wherever they are.
This campaign strategically connected with Intel's target audience by featuring captivating storytelling, engaging visuals, and showcasing real-world applications of their technology. As a result, the "Meet the Makers" series has since then generated significant interest and has been widely shared on social media platforms, driving increased awareness and engagement with the Intel brand.
A Genuine Branded Blog – Groove's "Our Startup Journey"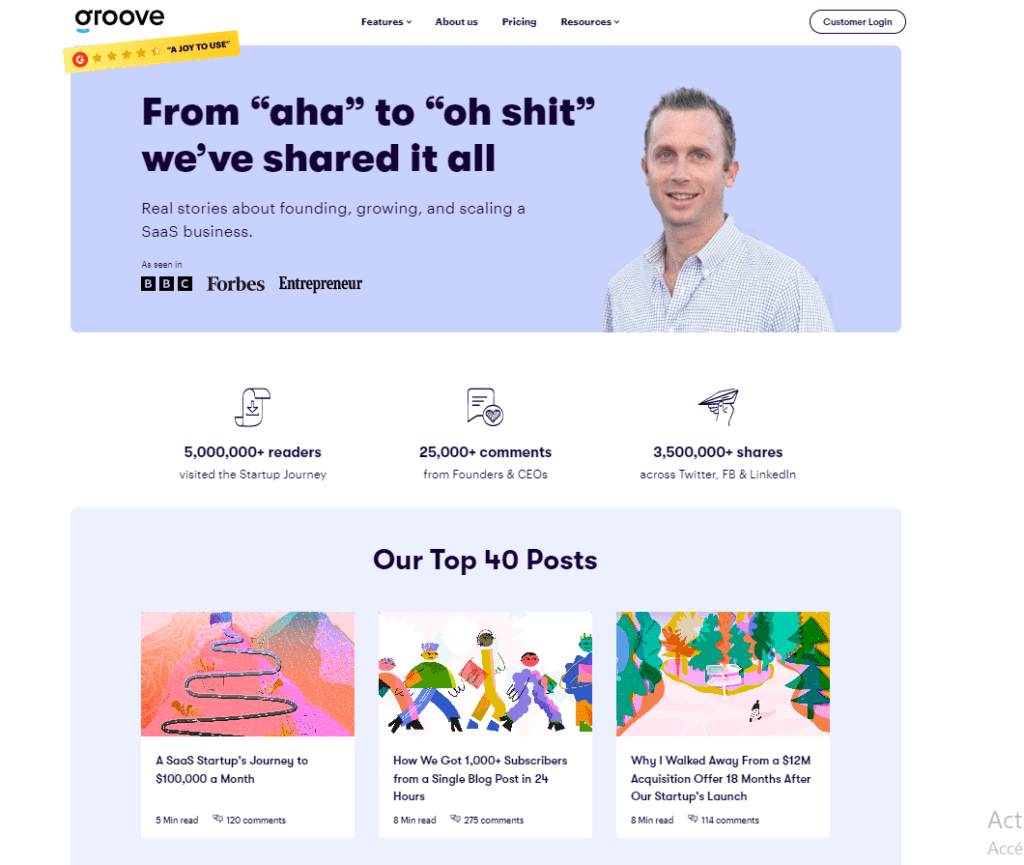 Groove, a customer support software company, implemented an authentic content marketing strategy through their "Our Startup Journey" blog. This initiative involved sharing their own startup experiences, complete with the struggles, triumphs, and insights gained along the way. By offering a transparent view into their business journey, Groove successfully resonated with their primary audience—entrepreneurs, startups, and small business owners.
Through the blog, Groove's audience is able to witness the transformation and growth of the company, from the initial stages of the original Groove to the current, more advanced platform. For instance, the blog shares the story of how Groove pivoted from an all-in-one support suite to a focused, streamlined customer support software solution.
Moreover, the blog offers practical advice, strategies, and inspiration derived directly from Groove's experiences. Topics covered include marketing, product development, customer support, and more. By addressing the specific pain points and challenges faced by their target audience, Groove has established itself as a relatable and trustworthy brand.The transparency and vulnerability displayed in their storytelling have made the content highly shareable and engaging, ultimately contributing to Groove's rapid growth as a software company.
Engaging Tutorial Videos – Moz's Whiteboard Friday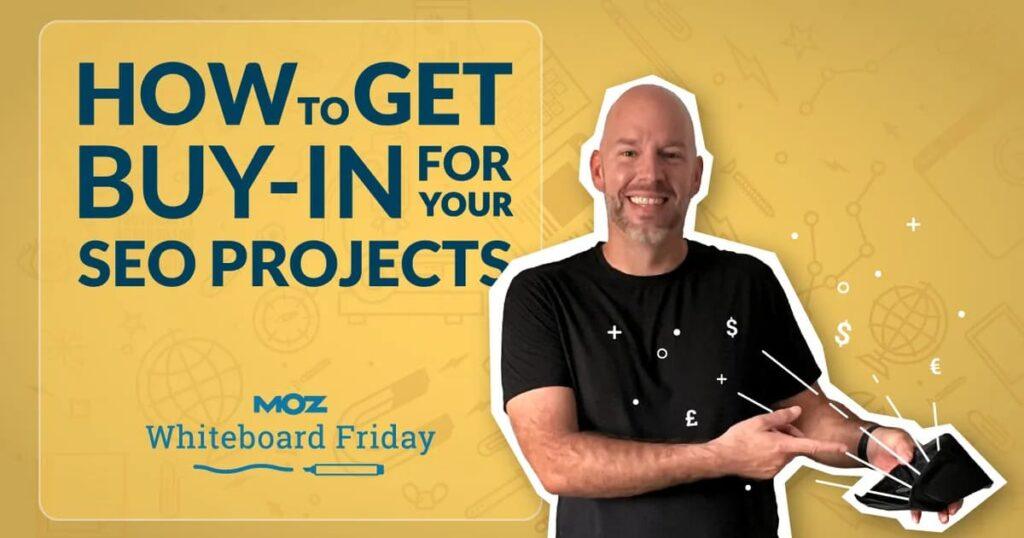 Since 2007, Moz, a leading SEO software company, has been hosting a video series called "Whiteboard Friday". This weekly video series showcases industry experts discussing various topics related to SEO, content marketing, and digital marketing strategies, all while using a whiteboard as a visual aid.
The Whiteboard Friday series effectively caters to Moz's primary audience—digital marketers, SEO professionals, and business owners—by addressing their specific needs and challenges. The series offers practical tips, industry insights, and step-by-step guides on a wide range of topics such as keyword research, on-page optimization, link building, and content promotion.
One of the main reasons for the success of Whiteboard Friday is its engaging and approachable format. The use of a whiteboard allows the presenters to break down complex topics into easily digestible segments, complete with diagrams and illustrations.
Another factor contributing to the popularity of Whiteboard Friday is the expertise and charisma of the presenters. Rand Fishkin, co-founder of Moz and the original host of the series, has been particularly instrumental in the series' growth, thanks to his vast knowledge, and enthusiasm. Over the years, other industry experts have joined the series as guest presenters, further enhancing its credibility and appeal.
Moz's Whiteboard Friday has generated significant engagement, attracting thousands of views, shares, and comments across various platforms.
A Gamified Content Experience – Twilio's TwilioQuest
In 2018, Twilio, a cloud communications platform provider, launched TwilioQuest, an interactive and gamified content learning platform. This platform was designed to teach software developers essential programming skills while introducing them to Twilio's APIs and services.
The TwilioQuest experience was primarily aimed at developers and programmers. The game features a series of coding challenges and missions that players must complete to progress through a sci-fi-themed narrative. The challenges cover various topics, such as Python, JavaScript, and Twilio's own APIs for SMS, voice, and video communications.
TwilioQuest's success lies in its innovative approach to learning. By blending coding education with a captivating gaming experience, Twilio has made it more enjoyable for developers to acquire new skills, experiment with Twilio's products, and become familiar with the company's offerings. The game's design encourages a sense of achievement and rewards players with in-game items, badges, and other incentives as they complete missions and level up.
TwilioQuest has garnered positive feedback from players and industry experts alike. It has not only helped Twilio build brand awareness and trust within the developer community but also contributed to increased adoption of the company's APIs and services.
A Compelling Benchmark- Unbounce's Conversion Report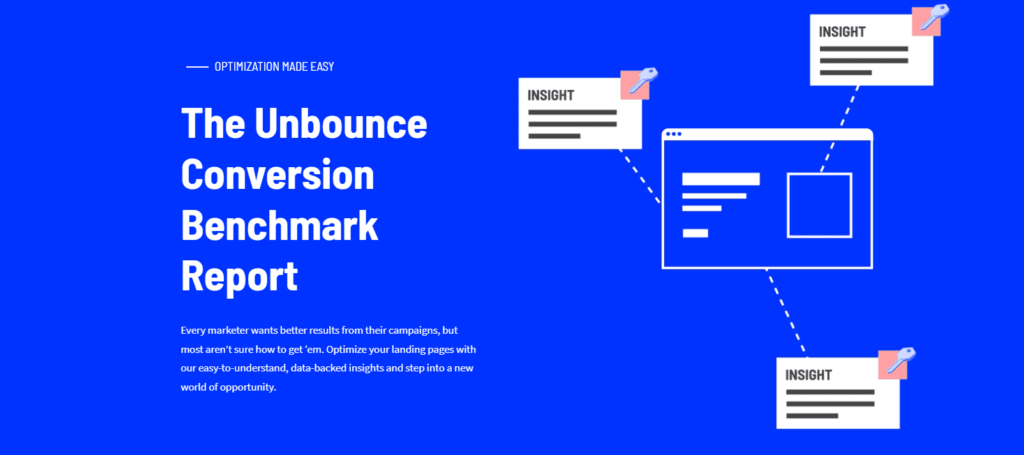 Unbounce, a leading conversion optimization platform, has created a comprehensive benchmark paper called the Conversion Benchmark Report. This paper leverages Unbounce's vast database of landing page data and conversion metrics to provide marketers with valuable trends about their industry.
The Conversion Benchmark Report is a prime example of how a tech company can utilize its proprietary data to create compelling content. By analyzing millions of landing page visits and conversions, Unbounce has compiled industry-specific data on conversion rates, user behavior, and best practices for landing page design and optimization. The report not only presents the raw data and benchmarks but also offers tips and recommendations on how to improve conversion rates based on observed trends and successful examples.
This practical approach enables marketers to understand the context behind the numbers and make informed decisions when optimizing their landing pages. The report also serves as a powerful lead generation tool, as it encourages readers to explore Unbounce's platform and services to enhance their own landing page performance.
---
There you go: you now know everything to get your tech content marketing strategy started!