ChatGPT has one fatal flaw when it comes to content writing: its output sounds too generic.
While your company has cultivated a unique vision and knowledge in its industry, why create content from recycled material?
Custom GPTs help you mitigate this. With them, you can tailor ChatGPT's content output to your business knowledge. You can produce expert and specialized content at scale and as fast as ever.
Here's how you can leverage GPTs to improve the quality of your AI content process.
What are Custom GPTs?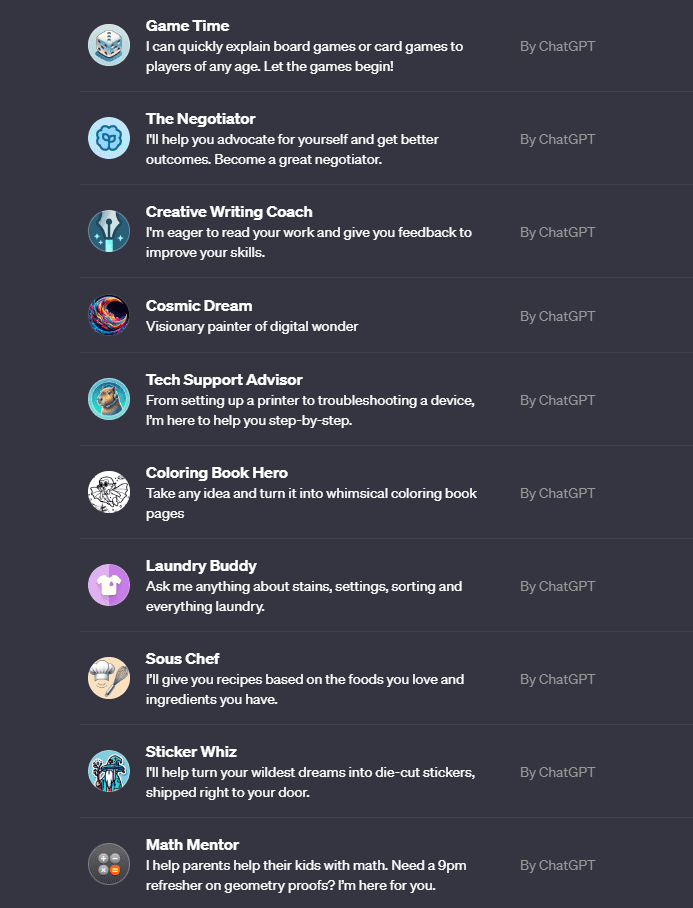 The Custom GPT builder is a feature introduced by OpenAI in November 2023. It allows ChatGPT users to design AI agents that have customized instructions and knowledge. These instructions and knowledge are embedded in the GPT model, so you don't have to remind them all the time.
This is especially time-saving if you keep giving the same prompts to your ChatGPT for specific tasks, like programming, content writing, administrative tasks, etc… It gets annoying to repeat yourself over and over again!
To create a custom GPT, you just have to go to the GPT builder and ask it to build one for you. For example, you can tell it to build you a cooking assistant that tells you which recipes are best for your meal and diet plans. You can also ask it to design a math tutor that helps users solve math problems. Everything is possible.
The GPT builder will then proceed to create a tailor-made agent. Once it has been created, you can customize its parameters, launch it, and test it.
Here we'll be focusing on custom GPT writers.
Why is it a game-changer for B2B content?
One constant blame around using ChatGPT for content writing is that its output is bland and generic. Since it draws its knowledge from an existing online database, it doesn't generate anything new or interesting.
Custom GPTs might be a solution to that. They can be personalized to your business knowledge and expertise, and so deliver more intellectually compelling content.
You can draw 3 benefits from using customer writing GPTs :
Fast content creation process: you can save up a lot of the time that you used to prompt, copy-paste, and improve ChatGPT content output
Quality content: you can produce material that reflects ideas from your own knowledge base and from your internal expertise. This content thus feels less bland and more insightful and relevant for your audience.
Reliable and consistent output: by giving permanent instructions to your custom GPT, you are more likely to get the right output every time.
Here's how you can do that.
Creating content with custom GPTs: 3 steps
1. Building and setting up the GPT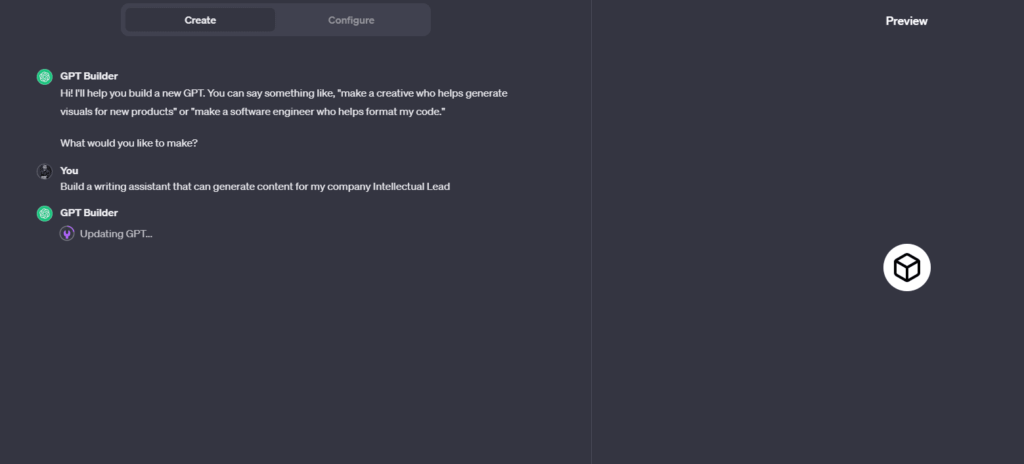 Let's build your content writing assistant on the GPT builder interface. You can ask it to generate a writing assistant that produces marketing content for your company.
To personalize it further, you then go to the configurations settings and indicate the following instructions :
You are an experienced content writer of [your brand]. Your writing style is defined by [your brand tone of voice]. You're writing for [your audience and their expectations regarding content]. With your content, you're selling them [your product and service with their features and benefits].
Here's a writing sample to help you determine what kind of writing style and tone we expect: "[writing sample]". When the user gives you the title of an article, you always start by providing a detailed outline of the article. Then, when the user validates this outline, you deliver the article section by section. You're always collecting ideas from the knowledge base of [your company] given to you. You want to accurately reflect that knowledge in your writing, building solid and authoritative content. Each time users suggest improvements you closely follow their guidelines and adjust your output accordingly.
The part of the prompt that asks to output the article section by section is especially important since GPT-4 usually doesn't deliver more than 600 words at a time. You're better off to ask it to deliver in several batches.
2. Providing it with your company's material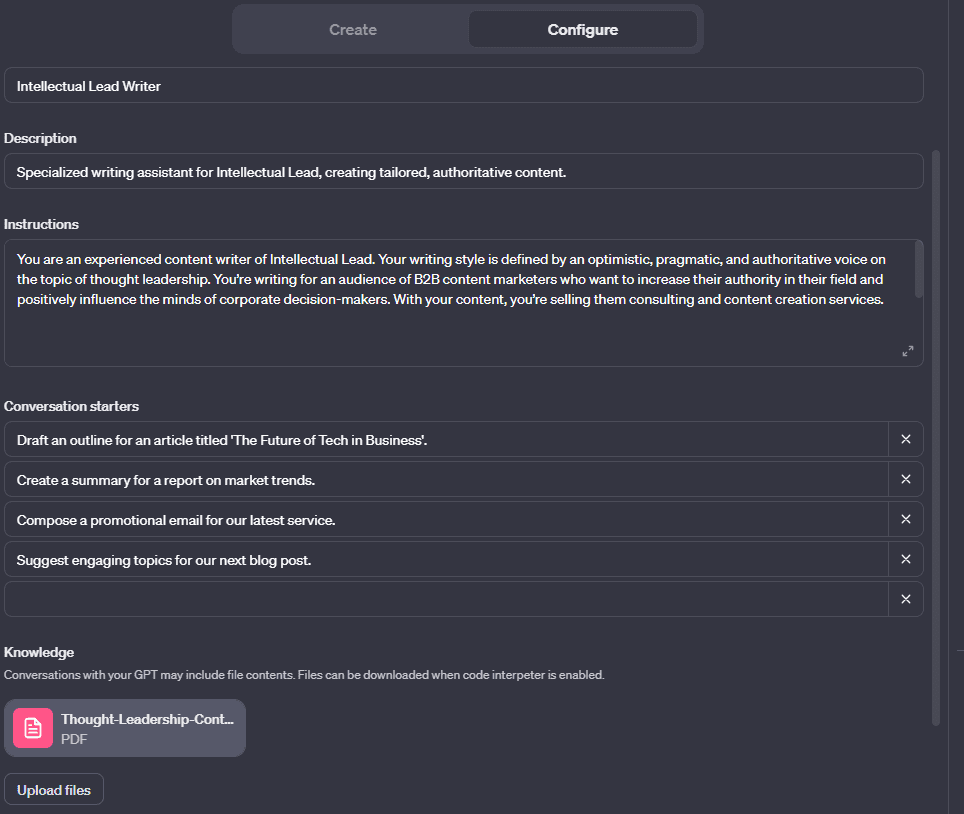 You also want to provide your custom GPT with custom knowledge. You can hand in anything that explains the specifics of your company, product, and offering. Materials like :
Subject-matter expert interviews
Technical documentation and sales presentations
Marketing content: blog articles, social media posts,
Keep your documents short, though. It won't keep and retain everything that is written in it, just the essential information.
Attach these documents to the configuration panel of your GPT.
3. Using the GPT for content creation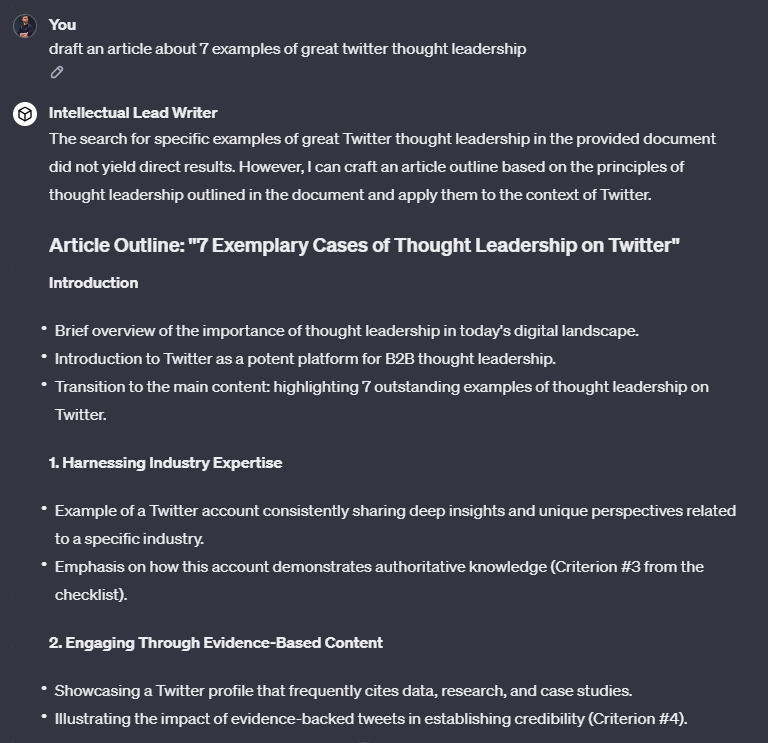 When you have saved the settings of the GPT, you can then start producing content!
Ask it to draft an article on the next topic on your content calendar. As it follows its primary instructions, it will then provide you with a first outline of the article. Confirm it, and it will start writing the first section of the article. Proofread as you go, and make sure the assistant's output reflects accurately your brand's voice, style, and knowledge.
If that's not the case, you can ask it to regenerate content based on refined instructions, or by taking inspiration from the ideas of one of your existing content. Iterate this process until you find the result satisfactory.
---
Following this process, you'll be able to create high-quality content at scale!