While B2B influencers can give you a huge visibility boost to your brand, finding them can be challenging.
They don't usually signal that they are open to collaboration. That's even more the case when they are genuine thought leaders on their subject.
This shouldn't prevent you from reaching out to them. Here are some concrete examples of B2B influencers to help you spot the best ones for your brand.
What is a B2B Influencer?
Few professionals claim themselves as B2B influencers, despite meeting all the requirements.
That's because it still doesn't look good to identify yourself as an influencer in the business world. Yet, B2B influencers share the same characteristics as B2C influencers :
They have a broad audience of social media followers, blog visitors, or PR outreach.
They regularly publish content on their favorite channels
They create a lot of engagement around them and have a community of fans
The only thing that separates them from them is that they speak about business-critical subjects. This can be marketing, HR, accounting, management… Every topic that affects the day-to-day business decisions and/or your professional career.
In that way, B2B influencers can also be called thought leaders, since they can impact companies and society at large.
Where can you find B2B influencers in your industry?
B2B influencers have one thing in common: they have gained prominent visibility and recognition among a specific audience. You can find relevant B2B influencers in your niche by checking every relevant channel:
LinkedIn, Twitter, and YouTube: look at the most popular posts or videos on your topics.
Google: check the most visited and best-ranked blogs on your topics.
Industry events: look for the most prestigious guests at the biggest events in your industry.
Media: find out who are the most featured speakers on media & outlets in your market.
Bookshelves: see what are the bestsellers on your topics and who's authoring them.
Influencer platform Buzzsumo or Tracckr: sift through an extensive online database of social media and popularity metrics.
8 Examples of B2B Marketing Influencer Content
Here are 8 noteworthy examples of B2B influencers that are sponsoring a brand, product, or service they endorse. This will help you get a concrete picture of the type of content creators you should be looking for.
What makes them good influencers for your brand?
They have a huge audience and engaged community
They create compelling and value-adding content for their followers
They sponsor brands in an authentic way that fits their original voice
You should look for these traits when you're looking for thought leaders who can promote your brand/service, collaborate in your content/events, or simply partner with you on your product. You should also see if their views fit with the core values of your products.
This can create an influencing campaign with huge results for both you and your influencer !
Devin Reed – Sales Influencer
Devin Reed is a huge star in the sales community. Once a successful SDR at Gong, he has become a renowned voice on sales-related topics. He shares valuable and data-driven insights on sales techniques and how to convince prospects via emails and meetings.
Here, he provides a powerful example of a sponsored post that perfectly reflects his unique voice. He shares his past frustrations with the sales deck as a rep and promotes Journey as a solution that makes slide creation as easy as ever.
Rand Fishkin – Digital Marketing Influencer
We won't present Rand Fishkin, founder of the well-known SEO tool Moz and CEO of SparkToro. Rand has become a prominent voice in the topics of digital marketing, content creation, and SEO. He often shares his views on the evolution of online marketing through video and attracts a considerable amount of engagement.
Here, he promotes a book that stands out in his mind. He does it in a very genuine and personal approach. And that's what usually defines his endorsements.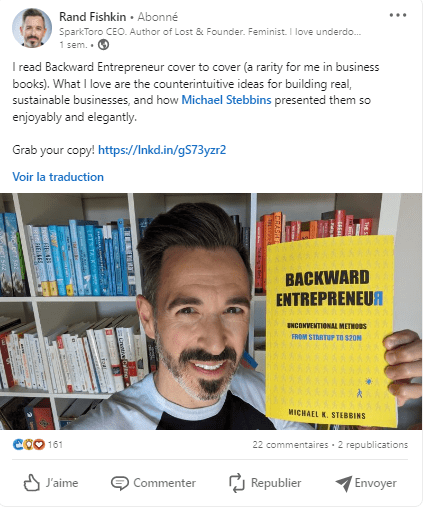 Jennifer Kim – HR Influencer
Jennifer Kim's obsession is all about talent acquisition in startups, and diversity and inclusion strategist. She constantly shares her opinions on the recruitment strategies of tech companies and doesn't hesitate to make her voice heard on complicated topics. Her LinkedIn posts, teaching entrepreneurs how to build a robust company culture, gather thousands of views and numerous comments.
She also loves to contribute to sponsored publications and podcasts as a thought leader on startup recruitment. Here, she shares a report on the state of women's pay on which she commented.
Shep Hyken – Customer experience influencer
Shep Hyken is a renowned speaker and best-selling author on the topic of customer experience. He advocates in multiple formats and angles the benefits for companies to achieve "customer amazement". What he loves most is convincing decision-makers to put customer sentiment and appreciation at the center of their company's initiatives.
For that, he writes reports, makes speeches, and shares social media posts to spread the word. Here, he provides a comprehensive report about the customer sentiment around price, which is sponsored by contact center company Five9.
James Hearle – Accounting Influencer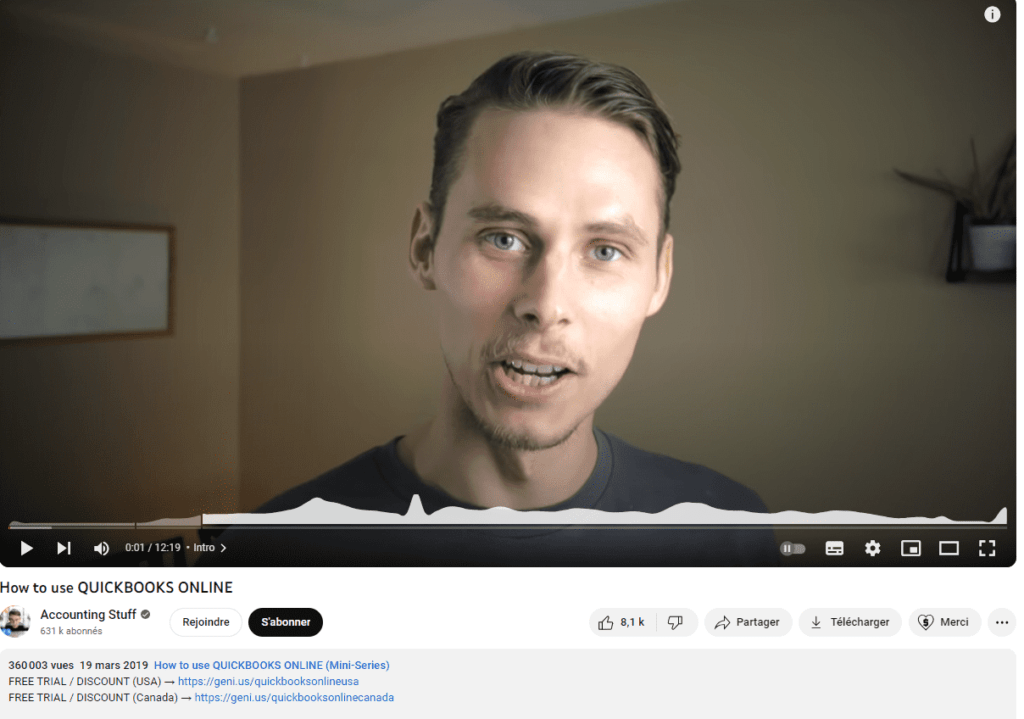 James Hearle named his YouTube channel "Accounting Stuff" for a simple reason: he loves to share tips and techniques to optimize accounting work. Every day he gives hands-on advice on how to make the life of accountants more productive and stress-free. So much so, that his channel has grown to hundreds of thousands of subscribers. He doesn't mind sharing accounting software that makes the job easier. That's why here, he explains the new version of Quickbooks, which he sponsors via affiliate links.
Rachel How – UX Design Influencer
Rachel How also owns a popular YouTube channel, but this time around product design. She's gotten used to sharing her workflows as a UX designer, her struggles in her career, the work tools she uses, and the lessons she learns along the way. She especially loves to give tips and advice from her own professional experience.
Here, she explains how she leverages Notion to boost her productivity in her daily life, software that she sponsors via affiliate links.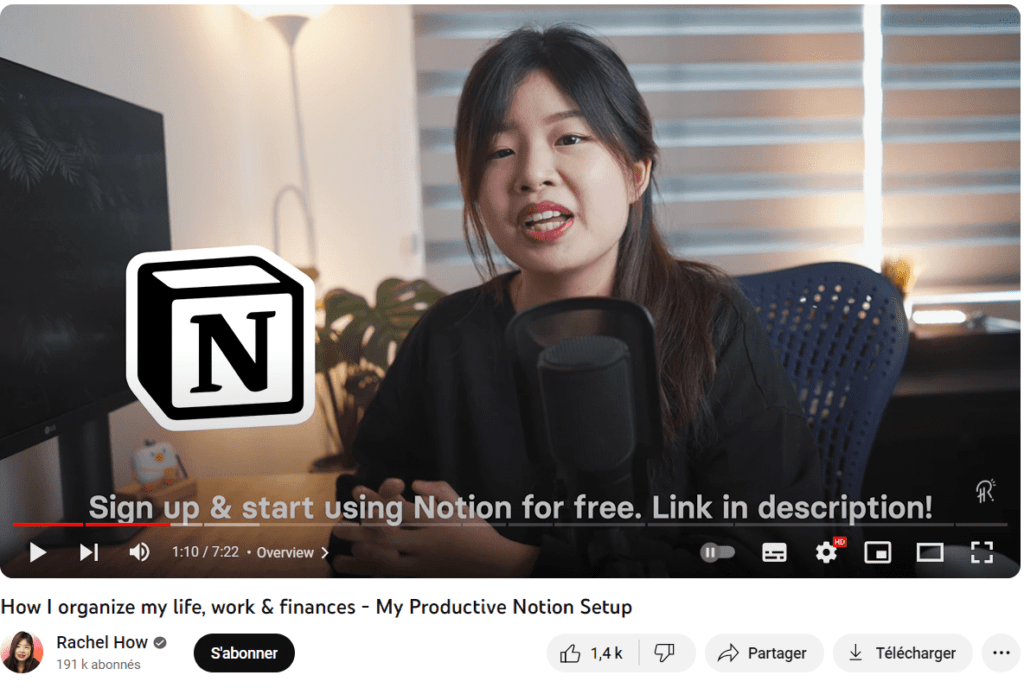 Melissa Pari – Product Management Influencer
Through her consulting, executive, and speaker career, Melissa Pari swears by one word: product management. Her obsession is to expose the mistakes of organizations that rush to build new features instead of figuring out what users really want. She advocates her vision of product management via a podcast, book, and social media posts.
Here, she collaborates with Heap, a user experience software, to talk about the power of product data.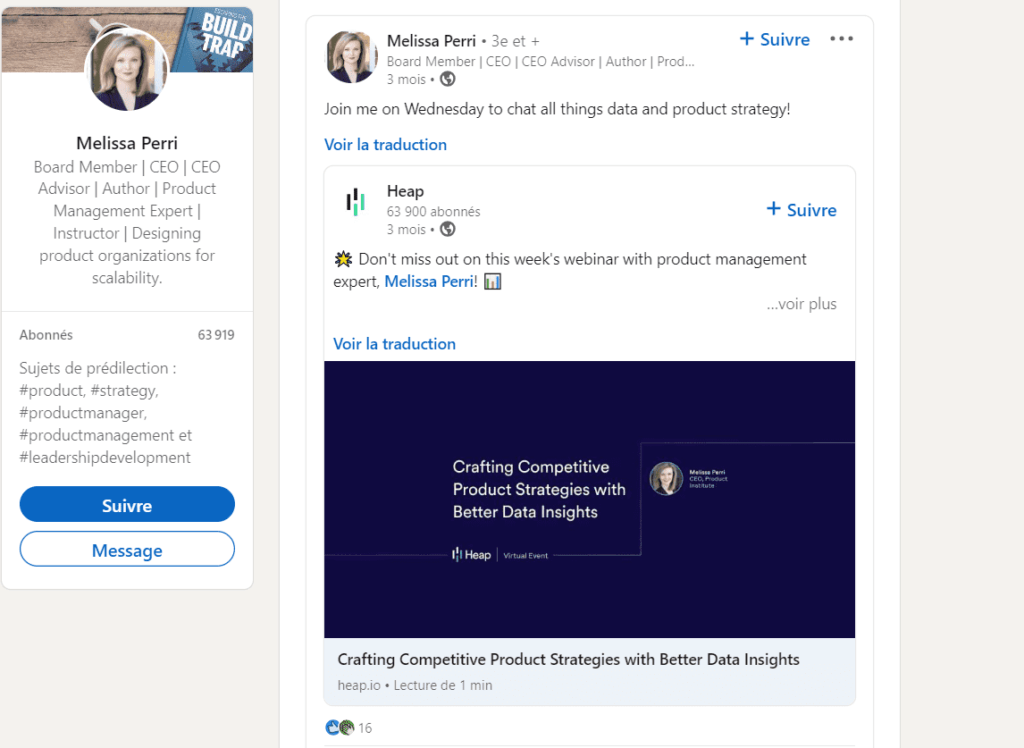 Rachel Tobac – Cybersecurity Influencer
Rachel Tobac is a vocal authority on the topic of cybersecurity threats. Through webinars, speaking events, or even on TV, she frequently alerts companies on the different ways cybercriminals can steal their data and disrupt their service. She persuasively shows organizations how to take preventive measures, train employees, and protect themselves from these attacks.
Here, she tells her audience that she's running a video contest with the platform Biwarden about password managers.
---
Do you know now what the right B2B influencer for your brand looks like? Let the search begin!