Today's company decision-makers face increasing challenges, requiring agile and broad thinking. And yet they are flooded with ideas only scratching the surface of their problems.
As thoughtful content is in short supply, that's an opportunity for you to create deeper and slower-absorbing intellectual content – in other words, thought leadership white papers.
This will give you a long-lasting edge over all these brands that provide poor marketing material.
Here's how you can plan and deploy a thought leadership creation process.
What differentiate thought leadership white paper from traditional marketing white paper?
Thought leadership white papers differ from traditional content marketing in a number of ways. Here's a comparison table : 
| | | |
| --- | --- | --- |
| | Content Marketing | Thought Leadership |
| Purpose | Educative and informational | Argumentative and inspiring |
| Goal | SEO, lead generation, and revenue goals | Driven by problem-solving and scientific-like understanding |
| Length | Short and eye-grabbing content (1500-word articles and 10-min videos) | Longer and deeper insights (10-page book, 4-hour video or podcast series) |
These differences explain why thought leadership is the most effective when distancing itself from business and marketing purposes. This comes with specific benefits :
Stronger voice and brand differentiation
Higher authority and credibility
The reputation of being a leader in your field.
Which ensures better inbound reach, RP coverage, and sales deal-making.
Ready to build intellectually thrilling content for your audience? Let's dive in. 
Compelling thought leadership content: a 5-step structure
Similarly to research papers or philosophical works, a thought leadership white paper seeks to change the mind of its readers. The most compelling thought leadership papers achieve this by following a well-thought-out structure: 
#1 Finding the right question to ask
As the saying goes, "A Problem Well Stated is Half Solved". And that's particularly relevant when creating thought leadership white papers. 
More than providing solutions, you want to find a compelling question that gives you a new perspective on your subject. Usually, companies settle for easy-to-answer or obvious questions, which makes them miss the most interesting insights on the field. To find a thought-provoking question, you might need to probe deeper into each concept at hand.
To achieve that, you can use the 5-why framework. Start considering the most familiar assumption around the subject, wonder why it is that way, and then question again each answer that comes to your mind.
For example, let's say you want to tackle the challenge of implementing enterprise automation :
The first assumption that you might hear is that automation technologies are hard to implement in companies. But why is that?
Because human workers feel threatened by more intelligent technologies. Why?
Because they fear that computers will be more productive then them at their job and will replace them. Why?
Because their management favors productivity standards above all else. Why?
Because they don't know how to leverage the existing skills and creativity of their workforce.
These exercises help you uncover unfounded assumptions and poorly defined hypotheses. It helps you get to the roots of the problem -which is here that the success of an automation implementation heavily depends on the way human workers are managed.
You might then infer an intellectually stimulating question: how to create a management structure that maximizes the success of an automation project?
#2 Positioning yourself against existing resources
Your new-found thought leadership topic may already bring together a lot of existing literature and field experts. But that shouldn't discourage you.
On the contrary, these resources might give you the opportunity to base your work on reliable references and connect together seemingly contradictory sources.
Confronting existing hypotheses on the market will help you go beyond primary and incomplete assumptions. To do that, you can rely on the Thesis-Antithesis-Synthesis framework :
Present and explain the opposing ideas and views that exist on the subject. Demonstrate how each of them is providing useful and relevant inputs to the topics. (Thesis)
Compare these views to each other, highlight their weaknesses, and show their limitations in dealing with the current state of the market. (Antithesis)
Find a way to encompass this contradictory view from a new angle. Show how this new synthetic perspective will help your readers better resolve the issue at hand. (Synthesis)
This comparative analysis will help you define a new point of view (NPOV) to tackle the subject.
#3 Making first-hand research
Now that you have your NPOV, you can do research to analyze its implications. You can rely on many research methods :
A quantitative survey that assesses people's opinions, demographics, or company characteristics. This is good to detect systemic patterns. It usually involves comparing the characteristics of underperforming companies with over performing companies in a particular issue.
Qualitative interviews enable you to analyze and understand company-specific practices.
Statistical analysis help uncover strong correlations from your own or other existing databases.
Customer use cases can prove the effectiveness of your company's experiments.
The most important thing is to stick to the scientific rules of research to ensure trustworthy and objective results. You want to make sure to rely on accurate data and sound calculations, and to prevent the impact of your own confirmation bias.
The more reliable the results, the more meaningful the insights you will dig out.
#4 Defending your new point of view (NPOV)
Having research inputs and data is not enough. You have to make sense of it – infer causation from correlation.
And for that, you need to build on a well-ground theoretical framework. You can rely on your own field expertise and experience to make sense of your finding. For example, you can ask yourself.
Which key factors have the most influence? Which comes second, third?
How do all these factors relate to each other? What causes which?
How can you visualize how all these factors work together? Via a 2-dimension graph, a triangle, a gradual pyramid, or a matrix with multiple rows and columns?
You can sum up your intuition into a catchy conceptual formulation. You might know famous business frameworks like Porter 5's Forces, the Product Life Cycle, Alex Oesterwalder's Business Canva, or the Marketing Funnel framework.
Find your own way to name and visually illustrate your new idea.
#5 Giving practical insights
Business ideas are nothing without their concrete implications. How does your NPOV apply to real-life situations?
You can provide general guidelines that you have drawn from your research. For example, you can tell the distinctive features of the successful companies you've interviewed in your group study. You can also describe the reasons for the underperforming companies you've studied.
However, the best way to educate on your thought leadership views is still to narrate individual and relatable customer use cases. You can describe :
How a company struggled with the issue.
How they came up with your groundbreaking solution, or how you co-created with them.
How they deployed it and scaled its implementations.
The results and benefits of this strategy.
The limitations and relevance of the example. For example, this company belongs to a specific industry, which might make this success story less representative for other less-similar firms.
How to promote your thought leadership white paper ?
It might be unfair, but even the most compelling white paper won't sell by itself. For that, you need promotion and marketing initiatives. You need to leverage communication channels like : 
Social media posts from your SMEs or original authors.
SEO-optimized blog posts or shared via the company's newsletters.
RP outreach via media and news outlets.
Interviews, webinars, and conferences on the subject.
Sales reps communicating and sharing the finding with their existing prospects.
Your groundbreaking paper deserves to be known in any way possible!
Successful examples of thought leadership white papers
From consulting to IT or startup companies, every kind of organization can benefit from thought leadership. Here are some examples of successful and well-structured thought leadership white papers: 
Phillips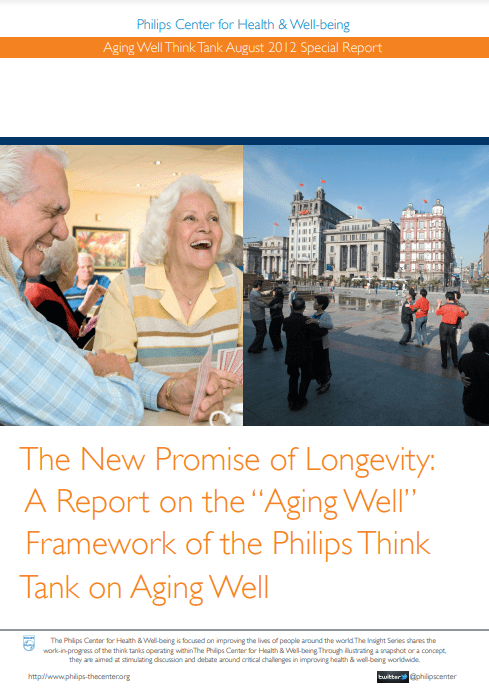 Phillips is one of the most recognized companies in thought leadership. There's a reason for this. During the 2000s, Phillips wanted to put more focus on its B2B activities. Businesses were so used to seeing it as a consumer brand, that they didn't really care about Phillips products targeted to them.
To shift that perception, the company launched a thought leadership program on the global impact of its product on health and well-being. One of the angles of this program dealt with the conditions of "Aging Well". It resulted in a white paper well-structured on several key elements.
First, it presents a compelling and well-chosen problem: what are the conditions of aging well in developed and emerging countries?
It also describes and refutes common misconceptions around aging: that aging is linked to dependence, loss of engagement, and poor health. In contrast, it suggests that aging can be about community engagement, preventive healthcare, and technology-enabled independence (which defines its NPOV).
The paper then relies on a literature review of existing research on aging to propose a visual framework. This framework ranks 4 factors related to aging well, whether environmental or individual, which suggest recommendations for public policies.
Basecamp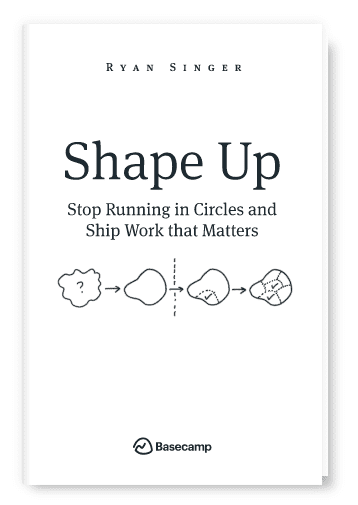 To introduce the vision behind their product, the founders of Basecamp -a famous project management platform- wrote a whole book about their work method. The book called "Shape Up" starts with a compelling question: how to reduce the risk of getting stuck in the product development process? This angle goes deeper than a common project management question: how to prevent building the wrong thing.
To address this problem, it debunks some of the myths around product development: setting project estimates, doing regular meetings to follow-up development, defining too narrowly the project or cutting out the work between people. Conversely, the NPOV is about setting the project "appetites", not micromanaging time, shaping the key elements of a solution to build, and giving responsibilities to the team.
The Basecamp founders rely on their own product management experience to analyze and prove the results of their methods. The whole book is about giving practical guidelines to get better at shipping a product with wider teams.
IBM
IBM's "Breaking away with business analytics and optimization" is a great example of a thought leadership white paper. The paper starts with a first interesting angle: what differentiates top-performing enterprises ("break away companies") from less successful companies when it comes to using business analytics and optimization? This turns afterward into a stronger question: what is the role of change management in this kind of organization?
To answer, the paper presents commonly assumed hypotheses brought up by their last survey ("the BAO basics") and then shows its limitations. To go further, it highlights the new "Breakaway characteristics" from their new survey. This survey is the most valuable part of this work as it relies on a very precious pool of data for its audience (top company executives).
The results of this quantitative research are then assembled in a visual 4-level circle framework, which defines the NPOV: the breakaway companies are relying on prescriptive, real-time, and pattern-based BAO. The paper ends with recommendations inferred from the comparative study of BOA implementation.
Zendesk
The customer service platform Zendesk often relies on serious academic studies to make compelling thought leadership papers. For example, the white paper "Fairness in the customer relationship" refers to research about the customer perception of fairness.
It takes a very interesting angle: how to handle customers that are asking for unreasonable demands. It shows the limitations of two approaches: always pleasing the customer, or not responding to the demand. Instead, it highlights a third way: being proactive and empathizing with frustrated customers while keeping our ground (which is the NPOV).
It backs its case on some statistical research around altruism and empathy. It then delivers a 4-step framework to cultive altruism and fairness in a company's customer service department.
---
Ready to stimulate your audience's mind with thought leadership? This will help you get started.