It has never been harder for tech brands to differentiate than today.
New technologies and software are emerging every day, and B2B buyers are overwhelmed by an ever-growing choice of solutions to add to their stack.
To stand out, thought leadership campaigns are the way to go, to promote your technological expertise and showcase yourself as the leader of your industry.
Here are some ideas and examples to help you create the next thought leadership content for your tech brand.
What are the specific benefits of thought leadership for tech companies?
Compared to traditional content marketing, thought leadership is a way to win over your audience via argumentative and evidence-based resources. You want to provide your educated B2B buyers with deep and original insights into their market and business operations. This means creating and promoting content like white papers, microsites, in-depth blog posts, videos, and podcasts.
For your tech brand, thought leadership is a golden opportunity to highlight the know-how of your technical experts and show you understand the next trends in your market like no other company. You can expect many benefits from being a thought leader : 
Brand differentiation: you take a stand in your industry and show your audience that you know your stuff inside and out.
Becoming a market leader: by anticipating the deep trends in your industry, you signal to your prospects that they should listen to you.
Qualified lead generation and nurturing: B2B decision makers naturally come to you to consume your thought-provoking content, and they keep your brand in mind.
Sounds appealing, right? Let's get to the heart of the matter.
Building a tech thought leadership campaign: 6 best practices
Tech companies have two assets that other companies lack when it comes to thought leadership: their technology and their expertise. Let's see how you can leverage them to plan, execute and activate your thought leadership campaign:
#1 Focusing on technological adoption trends
Technological companies only swear on one thing: the wave of new innovations and their subsequent adoption. After all, your company is seeking to make a new technological application mainstream in the market. This is a good starting point to figure out the best subject to cover in your thought leadership campaign.
What are the next technological trends that are going to shape your industry? What will be the benefits of these technologies for your clients and the challenges to implementing them in their business process?
You might concentrate on one technology or use case where your company has grown considerable expertise. You might also consider the actual needs of your ideal customers. Are they CEOs, CIOs, CFOs, or CMOs? What are the current challenges and main topics of concern? What technology would they find most promising? Which benefits can they expect from it, and what makes the adoption harder?
This should get you going when looking for a compelling thought leadership perspective.
#2 Leveraging your technical SMEs
In tech companies, your subject-matter experts (developers, engineers, IT consultants, product managers,…) possess invaluable knowledge of the industry. You would be wise to make the most of it for your thought leadership campaign. To do that, you might involve them early on in the project. Tell them about the benefits for the company but also for their career. Find a common time to discuss without distracting them from their main tasks and job. Interview them and challenge their knowledge with open-ended questions.
Beware, however. Your SMEs might use notions and ideas that aren't obvious to everyone. You might avoid jargon and complex notions and use simpler language when addressing a less technical audience.
The more you leverage your in-house experts' expertise, the more you'll be able to deliver thought-leader views on your subject and gain credibility.
#3 Creating data-based content formats
Technology is all about numbers. You want to showcase the exact benefits of your solution, the level of technological adoption in your market, or the number of professionals that struggle with one use case. So it makes sense that content format that can tell a story through data is a must-have for any tech thought leadership campaign. Executives want to stick to their minds some compelling figures about the state of the market or of a top-performing company. You can rely on data-storytelling formats like :
Report and benchmarks that give an overview of a practice or a technology in one sector or period of time.
Case studies telling the story of over-performing or under-performing companies and the quantitative improvements that resulted for using a new technology.
Infographics that are presenting all these findings in an engaging way
#4 Relying on your own data for your research
If your company is running software, or you're building applications for your clients, there's a chance that you have accumulated some precious historical data. Why not make it work for your thought leadership research? Too often, companies opt for surveys to back their claims with evidence. But apart from being cost and energy intensive, there are other more efficient and easier ways to do research. And making sense of your own data is one of them. What is the data that you've collected from your users? Can you do some accurate statistics and draw interesting conclusions from it? Can you average your finding to overall claims about market trends, best practices, and challenges?
Your own data might be biased – it's the data from your clients after all. But it's a good starting point to make some compelling inferences if you know some good statistical methods.
#5 Telling a story about your global impact
Technology doesn't need to be a dry subject. In fact, your audience is also greatly interested in how technology can work for people and for their everyday challenges. So in your thought leadership campaign, you might tell the origin story of your technology and replace it within the global challenges of your market and even society. You might want to highlight the environmental and social impact this tech is bringing to the world. Purpose-driven thought leadership can help you become a forward-thinking leader in your field because it is all about adapting to a future that matters to everyone.
#6 Activating visually engaging channels
The benefits of tech products are hard to feel and grasp. That's why your audience craves content formats that make them see what they can expect from your technology, and make them relate with people that are like them. To promote your thought leadership campaign, you can share insights via formats and channels that make your technology feel real such as l:
Webinar and live presentations: educational presentations, debates, awards…
Videos: testimonials, behind the scene reports, animated data presentations,…
Podcast: technical experts or market insider interviews; storytelling around your research; roundtable…
5 examples of exceptional tech thought leadership content
Nutanix – CXO Focus
Nutanix is a cloud-enterprise platform company that is selling to an emerging breed of executive professionals: chief experience officers (CXO). CXOs oversee customer and employee experience and are thus at the center of enterprise digital transformation. To appeal to this audience, Nutanix has launched a thought leadership campaign called "CXO Focus" to guide them in their ever-evolving challenges.
The campaign relies on many types of content : 
A branded microsite that put together all the content initiatives of Nutanix and enable readers to consume the content and easily subscribe.
Reports like 'The Path Forward" or the "Nutanix Enterprise Cloud Index" that analyzes and share some best practice of CXO in their respective industry
CXO spotlights that interview some of these professionals on addressing crucial challenges
Expert articles that tackle forward-thinking subjects like hybrid work, cybersecurity, or sustainability
ServiceNow- Workflow
ServiceNow tried an ambitious approach to appeal to business leaders on a subject like AI-driven workplace: a digital magazine. The Workflow Quarterly is ServiceNow's way to guide executives on the impact AI can bring to their workforce. Each Workflow issues provide news and data analysis around the next automation technologies that can boost firms' productivity, efficiency and customer experience.
But this thought leadership also relies on other content formats. The branded Workflow blog gives educational articles, white papers, case studies, interviews and briefs to talk about subjects critical to CIO and CEO. It is divided into different guide pages that let readers scroll according to their interests. It is really a go-to source for AI-driven corporate automation.
WebexOne Wire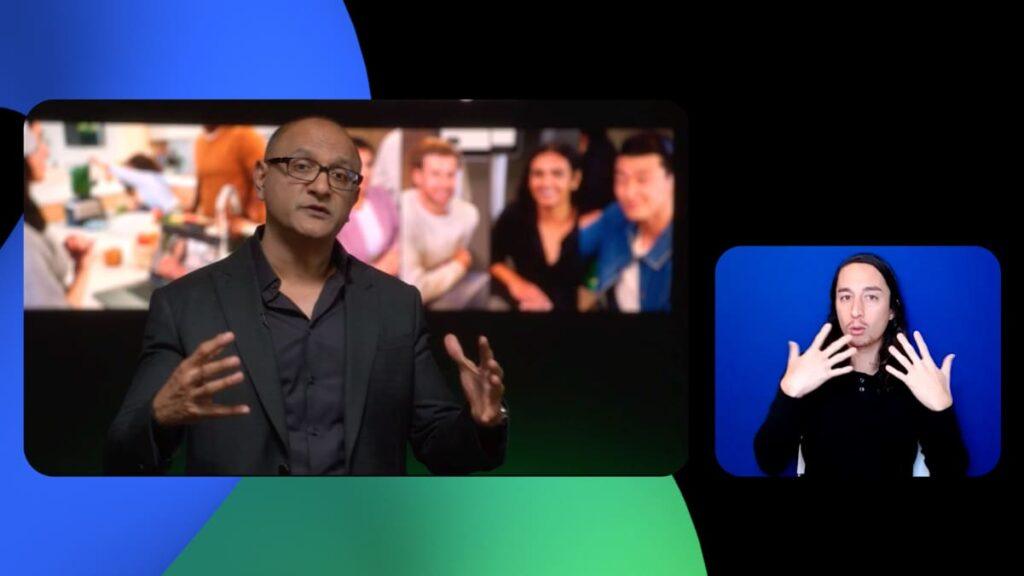 After the COVID-19 pandemic transformed the way people around the world approach day-to-day activities, video conferencing and digital work solution Webex by Cisco places itself as a valuable tool to this shift. But as the market soon became very competitive, it was looking for a way to stay top of mind among executive leaders. So Webex launched the WebexOne virtual event to showcase how leaders can rearrange the workplace to hybrid work. The campaign leveraged broadcast sessions in digital-enabled work studios where attendees could view the new products and solutions in everyday situations. This enabled Webex to present in a concrete and engaging format the solutions to enable modern hybrid work in everyone company. This is an interesting example of thought leadership using videos!
MSC Direct – Better MRO
MSC Direct is a leading metalworking and maintenance, repair, and operations company that helps manufacturing businesses run efficiently. As it realized that manufacturers needed reliable resources to manage their metalwork equipment, it launched "better MRO" to provide them with a wide range of educative content. Better MRO blog site features expert articles, tutorial videos, and calculation tools on every key application and challenge of metalworking manufacturers. It also launched its "Tooling Up" Video Series that provides inside access to services, solutions, and innovative product offerings from leading industry experts and knowledgeable in-house specialists. The campaign is split into several seasons just like a movie series and provides thought leadership insights in an engaging format.
Contentsquare – Retailers on retail
Contentsquare is a digital experience platform that improves the performance of companies' websites. It specifically aims at retailers who heavily rely on the experience provided by their site to grow their business. So it made perfect sense that it gave voice to retailers themselves in its "Retailers on retail" thought leadership campaign.
The marketing team interviewed big names in the retail market to talk about their challenges and best practices in analyzing their web performance, eliminating user friction, and scaling recommendation actions. It shared these insights in a report describing 3 case studies with data-based insights and insights delivered via a solution framework.
The campaign also relied on videos and easy-to-go-through pages to get the content highly relatable for professionals in charge of digital experience in retail companies.
---
There you have them, ideas and examples to kick start your tech thought leadership campaign!