LinkedIn is the top channel to build authority among a B2B audience. Here, you can freely voice your opinion and spark conversations with various professionals.
It's also a crowded space with many existing content creators and influencers. So it is often difficult to differentiate yourself and find your niche audience.
Here are some thought leadership content ideas and examples to get you inspired.
What is LinkedIn Thought Leadership Content?
Thought Leadership is a big word for straightforward marketing practice. It aims at appealing to a B2B audience with market insights and personal views on work life. For marketing purposes, the best way to do that is to give voice to your internal experts and leaders in your company. And LinkedIn is the perfect platform for that purpose, as it is easy to enhance your personal brand.
True LinkedIn thought leadership looks like this. It should :
Address a hot business topic.
Originate from experienced leaders and experts on the subject.
Express a solid and honest opinion.
Use a familiar and authentic voice.
Do you want to level up your LinkedIn content? Here are some things to get you started.
Which formats to achieve LinkedIn Thought Leadership?
LinkedIn gives you a wide choice of content formats to express your views. Here's which one you can use:
Textual post
What is it?
A written piece of content that shares a personal opinion, experience, or research on a business topic. It usually starts with a hook that catches the reader's attention (thanks to a statement defying common sense, conveying emotions, promising helpful tips, or building momentum).
Why use it?
Texts are the fastest LinkedIn content to create and share. If you're keeping them short and sweet, they can also generate a lot of engagement and comments.
Carousel
What is it?
Custom page-turning PDF that educates users on a new subject. It is usually composed of short and wide lines of text and provides a lot of eye space.
Why use it?
Carousels are known to be the most engaging type of content on LinkedIn. They are even more compelling when you give easy tips, best practices, and templates for regular challenges that your audience is facing.
Infographics
What is it?
Visual design that provides key data and information on a particular topic.
Why use it?
Infographics are also a fairly used format by LinkedIn thought leaders, especially to depict some new trends or analysis.
Videos
What is it?
Uploaded video interviews, roundtables, or explainers on compelling business topics.
Why use it?
Videos are a great way to give a voice to your opinion leaders and subject-matter experts. Ask them questions about a complex question or spark a debate on a controversial subject.
Articles
What is it?
Blog content several thousand words long that offers a personal take on a
Why use it?
Articles are less favored by LinkedIn algorithms, but they are more likely to rank on Google on specific keywords. They are great ways to keep your audience in touch with more in-depth insights and analysis.
Personal or Brand Thought Leadership: which one works the best?
There are two ways to post on LinkedIn: via your company's social media account or via your own or collaborators' personal accounts. We often see marketers opt for the default way, which is to share their content on the brand account. This makes sense if you already have a large following, or you want to attract your main customer audience in one place.
But if you want more engagement and following, you might better share your ideas through your internal executives, thought leaders, or subject-matter experts' accounts. This makes it more personal and increases your reach since social media algorithms usually favor individual posts over brand posts.
What we'll recommend is to do both when you want to promote your following content materials, and also to develop the personal branding of key collaborators. CEOs and thought leaders in your company can provide authenticity, authority and help grow a community around your brand.
8 Examples of LinkedIn Thought Leadership
Personal Brand
Manny Medina – CEO of Outreach – "You're hearing a lot of deal cycles getting elongated"
Manny Medina has a lot to say about the art of selling and making deals. He wants to target sales professionals and managers that want to make their sales operations more efficient. Manny's posts are usually drawn from his long professional experience and express hands-on advice on sales practice. Here he advises sales reps to leverage longer sales cycles to talk more with the various decision-makers.
Martin Harbech – Group Director, Meta – "The robots aren't coming… They're here"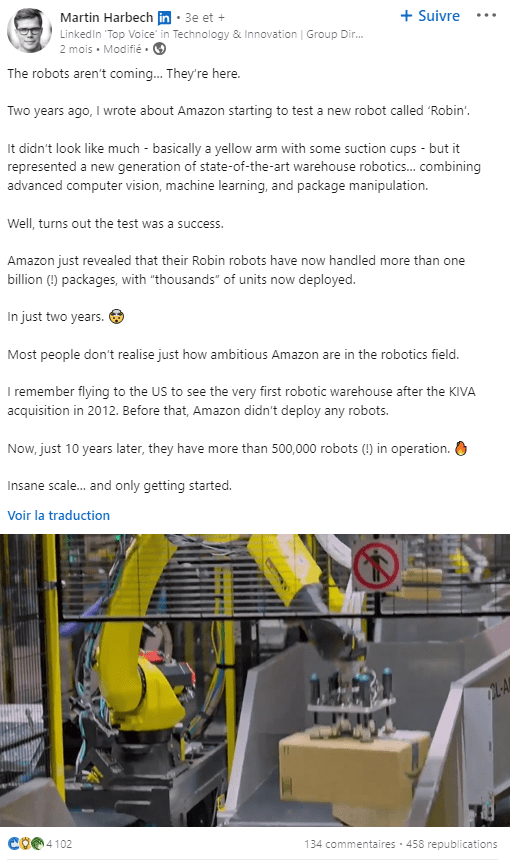 Martin Harbech is passionate about new technologies and never misses a chance to share new exciting innovations. He has a strong view of the positive impact of technology and shares it with his like-minded audience. He also promotes the advancement of his group Meta, compared to the other GAFAM. Here, he shows how robots have become a big part of Amazon's operational strategy.
Alison Taylor – Executive Director at Ethical Systems – "Let's talk about corporate responsibility and tax"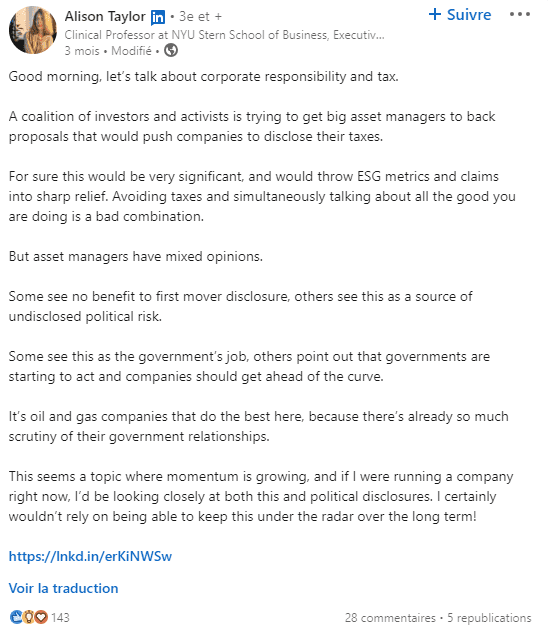 Alison Taylor is an expert in sustainable and ethical governance. She often talks about how executives can make sure to implement ESG initiatives successfully and how to manage ethical considerations. She often comments on the news around corporate sustainability and the climate crisis and shares her perspective as a researcher. Here, she discusses the impact of forcing companies to disclose their ESG taxes and metrics.
Jennifer Lau – UX Designer – The problem with statements like "make this button bigger"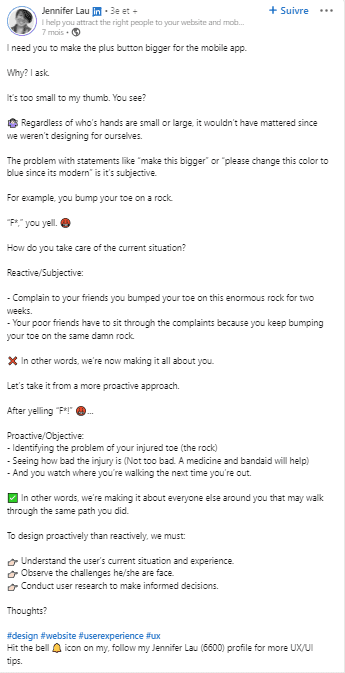 Jennifer Lau is on a mission to demystify topics around UX and product design. She is an experienced professional in designing mobile interfaces, websites, and other visuals, and loves to share her personal insights. She always takes a strong stance on every issue she discusses, which increases her authority among her audience. Here, she explains why clients should always take a step back and put themselves in the customer's shoes when asking for a design change.
Company's Brand
UiPath – Automation Myth Busters
UiPath is well aware of the many misconceptions that are spread around automation, the company's core topic. In a series of posts called "Automation Myth Busters", it reveals the truth behind this controversial topic with compelling stats. By educating people on the impact of automation, it builds its thought leadership among its main audience of automation beginners and makers. Here, it shows that even non-technical workers are interested in contributing to automation initiatives in their companies.
CloudFlare – what is a DDoS Attack?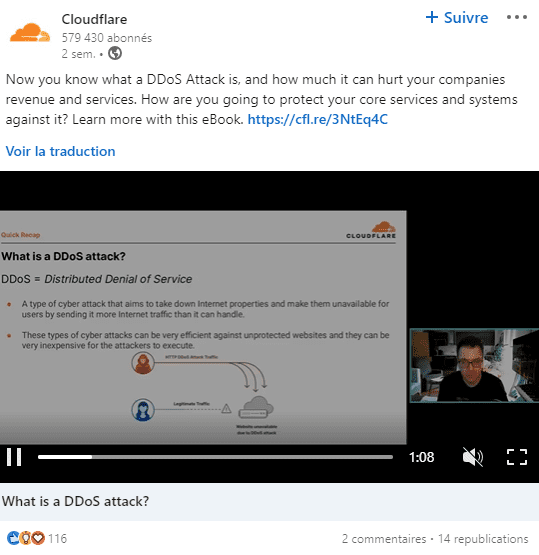 CloudFlare never misses a chance to educate its audience of professionals on critical cybersecurity issues. By sharing webinars, white papers, or informational LinkedIn posts, the brand aims to establish authority and raise awareness among its less mature companies. Here it explains a very common cyberthreat and warns about the impact it can have on a company's operation: a DDoS attack.
Medallia – Everyone knows customer experience and customer service are different
Mediallia is a customer experience company that never ceases to advocate for staying in touch with customer feedback. It does that via recurring posts that explain how to turn customer contact centers into valuable business value generators. Here it shows how customer service is interlinked with key business issues like customer loyalty in a short and impactful copywriting.
Miro – What knowledge workers want and what's working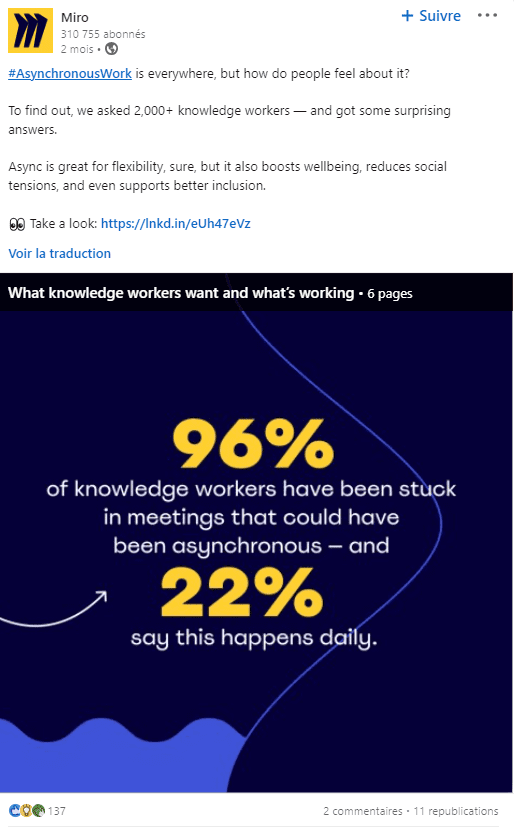 Miro is a visual collaboration platform that promotes the value of social intelligence to resolve companies' biggest problems. On LinkedIn, it provides regular insights into the new ways of working through eye-catching carousels. It can give tips and stats about new workplace habits, trends, or ways to ignite creativity within a team. Here, it highlights the preference of today's workers for asynchronous work, which gives them more autonomy and work satisfaction.
---
Here you have them, compelling examples of LinkedIn thought leadership to get started !