You want to increase your authority in your market and position your brand on critical subjects.
But you don't know which content types can help you better achieve thought leadership.
Thought leadership is an ambitious endeavor, so we know how you feel.
Here are 8 ideas of content that will make you have a long-lasting impact on the mind of your audience and prospects.
What is a Thought Leadership Content?
Thought leadership is a big word, for a concrete marketing practice. It's a way of influencing the minds of B2B decision-makers via researched and insightful content. You want to promote content that gives your subject-matter experts and opinion leaders a voice.
What qualifies as thought leadership content meets several criteria :
A business-critical subject that appeals to an audience of decision-makers.
Data and research-backed insights.
A strong and unique point of view on the subject (POV).
Hands-on recommendations and/or case studies.
A piece like that will strongly appeal to your B2B audience and increase the chance of them making contact and reaching a deal.
You want to do it by yourself? Let's see what kind of content you can start with.
7 thought leadership content ideas :
Trend or news-related blog post
What is it?
A blog post that gives an expert take on a market trend or fresh industry news.
Why use it?
A short blog post that comments on a hot business subject can help you influence the minds of decision-makers. It is also easily shareable and create a lot of engagement.
One example: "Why Converting Vacant Office Space to Housing Isn't So Simple"
Bluebeam is a construction software for architects, engineers, and builders. This blog post demonstrates the new challenges brought by remote work in the construction industry and how building conversion can become an option for real estate developers. It sparks a conversation on how to adapt existing buildings in the post-pandemic era and puts the brand at the center of these important discussions.
Benchmark white paper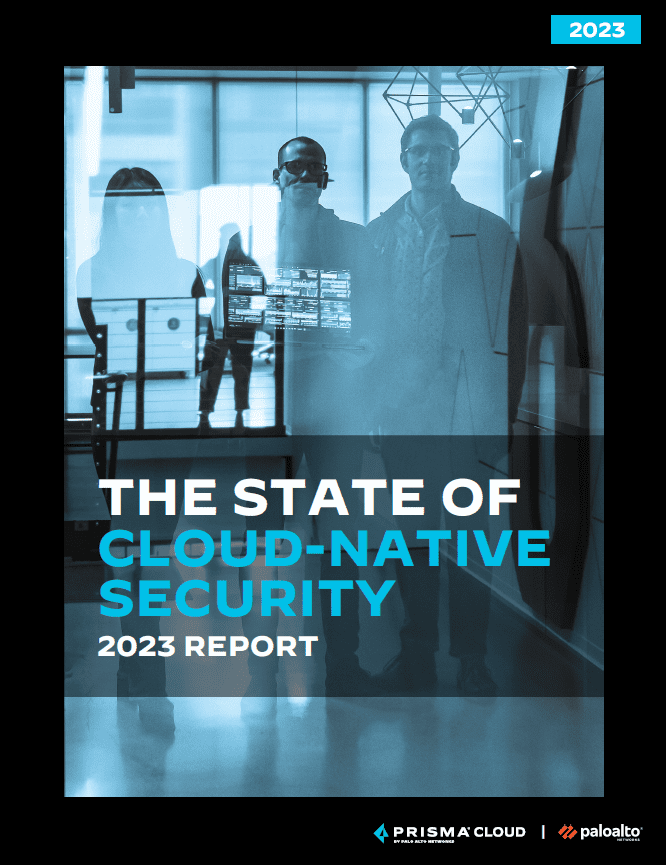 What is it?
A long-format piece of content that analyzes the state and best practices of your industry via quantitative data.
Why use it?
Benchmarks give unique insights to your prospects on key market issues. It helps you stay top of mind by providing important data and expert analysis on the future of the industry.
One example: 2023 State of Cloud Native Security Report
Palo Alto Networks is a leading cybersecurity software. Their yearly cloud native security report is made to shape the conversations among their prospects (security and DevOps professionals). It provides them with key data on best practices to protect cloud service systems from cyberattacks.
CEO or SME LinkedIn Post
What is it?
A social media post expressing a personal take on an important subject from a CEO or subject-matter expert in the field.
Why use it?
Words and opinions from thought leaders feel more authentic and increase your authority among your main audience.
One example: "The US continues to see a surge in entrepreneurship"
Gusto is a famous payroll solution for lowering the accounting burden of HR professionals. It usually uses its LinkedIn account to share data and opinions about hot topic around HR management. Here it follows the analysis of an economist arguing that the new rise to entrepreneurship comes from the high rate of burnout among workers.
Research Report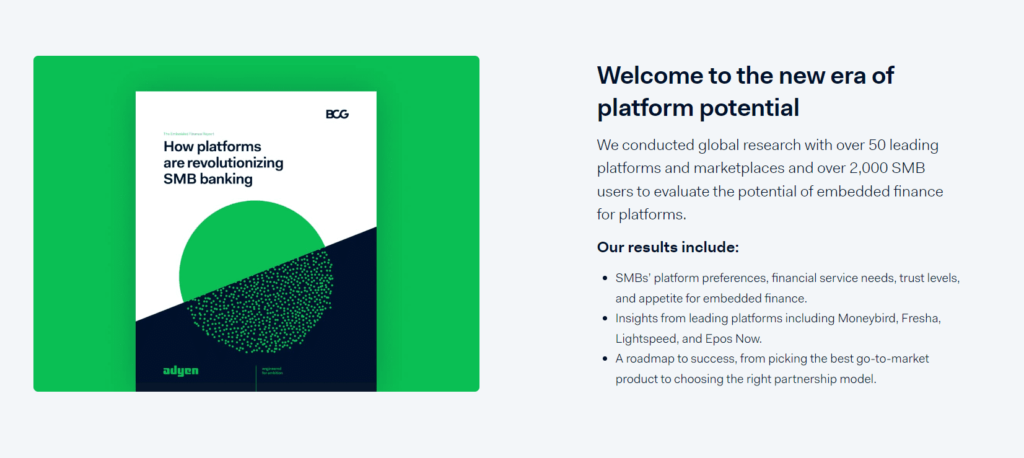 What is it?
A piece of content providing key takeaways from a company's research initiative on a hot business issue.
Why use it?
A research report gives you an edge on business-critical issues and establishes you as a partner of choice on emerging trends.
One example: The embedded finance report
Adyen is an end-to-end financial solution for businesses to manage their client payment. To raise awareness of its key business topics, it surveyed several companies about their needs for an integrated payment solution. This research report is a clear demonstration of the new expectations of business around banking services and positions Ayden as a central authority on the issue.
Video Roundtable
What is it?
A conversation and debate around industry experts about topics relevant to your prospects.
Why use it?
Giving a voice to thought leaders enhances your brand's reputation on important subjects.
One example: Industrial Design vs Mechanical Engineering
Fiktiv is an on-demand manufacturing platform that leverages the latest production technologies. It set up a conversation between leading product developers and mechanical engineers to see how these two fields can work together. It's a long-lasting debate and each speaker brings his own insights which makes it interesting for Fikitiv's main audience of product manufacturers.
Expert Interview
What is it?
An interview of an internal subject-matter expert or leading thought leader on a key business subject.
Why use it?
An expert interview helps you showcase your expertise on your main and enhance your brand on specific topics.
One example: Coffee with Mr.IoT: Tony Parisi
Consulting firm Deloitte often wants to showcase its leadership on the latest technological applications. This video is an interview with a leader in the field of VR/AR on how it's going to impact brand advertising and experiential marketing. With spot-on questions, the interviewer helps uncover new insights into this innovative subject.
Market infographics

What is it?
A design that gives key data on a new practice or trend in a visually engaging way.
Why use it?
Infographics are great to highlight the takeaways of your main content and make your even more memorable.
One example: Future proof your learning
Docebo is an all-in-one learning suite for businesses. It appeals to an audience of L&D leaders that seek to constantly improve the quality of their learning programs. With this infographic, it wants to show the new trends brought about by the pandemic of business training practices. This visual acts as a catalyst for heads of L&D to put more ambitions into their initiatives.
---
There you have them, 7 ideas to take inspiration from for your next thought leadership initiatives !