White papers are one of the most valuable content formats that B2B marketing departments can ever create.
They can deeply influence the minds of knowledgeable buyers, like subject-matter experts or executives. For one primary reason: they solely focus on solid arguments and objective evidence.
But how do you create a truly value-adding white paper?
Here's your way of introduction to this underrated marketing art.
What Are The Marketing Benefits of White Papers?
White papers are a major investment for marketing departments. They can consume a lot of budgets and require considerable internal and external resources. But the benefits outweighs the investment. You can expect numerous marketing returns from a compelling white paper:
Attracting top-funnel prospects.
Nurturing and staying at the top of the buyer's mind.
Differentiating from competitors and better converting business opportunities.
Which means more MQL, higher lead-to-deal rate, and better marketing ROI.
White Papers vs Marketing Guides vs Technical Documentation
You might have seen marketing professionals describe any marketing material as a "white paper."
But true white papers show distinctive purposes and features. Compared to persuasive or emotionally appealing marketing formats (like ad copy or sales decks), white papers are all about rational and cold-hearted thinking. They also show real differences from usual medium-length content formats like marketing guides, brochures, and lead magnets.
Here's how they fare with these well-known content types:
| | | | |
| --- | --- | --- | --- |
| | Marketing Guides | Technical Documentation | White Papers |
| Purpose | Collecting leads' contact information | Facilitating purchase decisions, fostering onboarding and usage | Attracting brand awareness, quality leads, and gaining credibility |
| Content types | Lead magnets like "how-to", tips, "mistakes to avoid", checklists, templates… | Brochure, user guide, tutorial, product data sheet | Problem/solution framework, Benchmark, research paper, … |
| Format | 2-4 pages | Depends on the number of product details | *Ideally* 4–10 pages |
| Tone | Persuasive, entertaining, and educative | Explanatory | Argumentative and educative |
| Main value | Tips | Tutorial | Data and argument |
As you can see, white papers stand out by their argumentative and thought-provoking nature. Let's see now how you can make one.
The different types of white paper: a comparison table
White papers specialists like Gordon Graham differentiate between 3 types of white papers. What he calls "backgrounders", "numbered lists" and "problem/solution" white papers. We feel this classification is a good start to knowing what a white paper looks like, but it can also oversimplify things. So we extended this categorization, added one more category, and give it other names.
Here's our white paper comparison table :
Product white paper
Numbered list white paper
Research white paper
Thought Leadership white paper
Purpose
Convince warm buyers or support a product launch
Engage, nurture prospects, and undermine competitors
Build credibility and convert existing prospects
Gain credibility and generate qualified leads
Format
A compelling product presentation
An engaging guide on how to resolve a specific problem
A benchmark or compilation of data focused on one industry topic, one sector, or one period at a time
A data-backed problem/solution argumentative essay
Structure
1. Introduction
2. Main Problem
3. 4. 5. 6… Benefits or Features of the product/service
7. Conclusion
8. Call-to-Action
1. Introduction
2. Main Problem
3. 4. 5. 6… Numbered tips
7. Conclusion
8. Call-to-Action
1. Executive Summary
2. Conditions of the Study
3. 4. 5. 6… Data per section with explanation and recommendations
7. Conclusion
8. Call-to-Action
1. Executive Summary
2. Main Problem
3. Investigation of the Existing Solutions
4. Research or case study
5. Solution Framework
6. Actionable recommendations
7. Conclusion
8. Call-to-Action
Example
"Transforming Private Networks with Samsung 5g"
"6 Smart Ways To Future-Proof Your Business"
"The State of Workplace communication"
"What is Revenue Intelligence"
How to Create a White Paper: a 6-Step Rigorous Approach
You're ready to show your expertise and eager to create a high-credibility white paper for your B2B brand. But where to start?
Here's a 6-step approach based on hands-on experience to guide your content creation process:
#1 Planning the white paper creation process
Creating a white paper is a long and complex endeavor, involving many actors. So you might need to define beforehand a well-thought-out creation process. This will help you prevent unexpected delays and agree on a common direction with your team. You might thus :
Establish firm deadlines: Outline the timeline for each stage of the project, from research and writing to design and promotion. This will help keep your team on track and accountable.
Prepare a solid white paper brief: Define the primary goal of the document, the target audience, its position in the sales funnel, and the type of white paper (as described above). Agree on a common topic of interest that genuinely resonates with your target audience and addresses their pain points. Additionally, compile a list of design inspirations, resources, and research to draw upon throughout the creation process
Craft a first outline: Develop a rough structure for your white paper that will serve as a roadmap for your content. This will help you make the idea of the future white paper clear in your head, and start looking for the right writers and designers.
#2 Gathering the key creative and internal talents
Now is the time to assemble the right talents to craft your white paper. Consider the following when building your team:
Hire an experienced writer: Select a writer who has a proven track record in creating white papers and possesses intuitive knowledge of the subject.
Collaborate with a skilled designer: Partner with a designer who has experience designing white papers and knows how to make text readable and engaging. They should be adept at enhancing the document's visual appeal while maintaining its professional tone.
Utilize infographic designers: Enlist the help of infographic designers to illustrate your ideas with captivating graphs and visuals that reinforce your key points and make the content more accessible to readers.
Engage subject-matter experts: Involve your in-house experts to ensure that your white paper is built upon rigorous expertise and credible references. Their deep understanding of the subject will lend authority to your content.
Identify internal advocates: Seek out executives or influential team members who can champion your project and secure the necessary support and funding from your organization's leadership. Their endorsement will boost the project's visibility and contribute to its success.
#3 Kicking off the project with a comprehensive meeting
Once your team is assembled, it's time to hold a kickoff meeting to set the stage for your project. In this crucial gathering, consider the following steps:
Present the project's key directions and parameters: Clearly outline the target audience, goal, title, and main subject of the white paper. This ensures that everyone is aligned and working towards the same objectives.
Agree on a roadmap and schedule: Develop a project timeline that takes into account everyone's availability and set realistic milestones for each stage of the process. This will help keep the team on track and accountable.
Brainstorm key ideas to feature in the white paper: Encourage an open discussion where team members can share their thoughts and insights on the most compelling points to include in the document. This collaborative approach helps to refine the content and ensures that all relevant perspectives are considered.
Address differences of opinion early on: Use the kickoff meeting as an opportunity to identify and resolve any disagreements among team members. This will prevent conflicts from arising later and ensure a smoother project progression.
By initiating your white paper project with a comprehensive kickoff meeting, you'll gain momentum and foster a sense of involvement among all team members, especially your subject-matter experts.
#4 Developing a compelling synopsis based on expert resources
The next step is to research and write your white paper. A good way to get started here is to agree on a synopsis with your writer and subject-matter experts. This summary will encapsulate the unique perspective you want to bring to your audience. It can later be transformed into an executive summary or introduction for the white paper. It will drive your research phase. To craft it, you can:
Leverage internal research and insights from your SMEs: qualitative surveys, quantitative analyses, case studies, or interviews with your experts to gather valuable data and ideas that will inform your content.
Search external credible sources: research from academic studies (via Google Scholar), consulting or reporting companies, trade magazines, industry experts, or drawn from books.
Combining your internal and external research, you can build a compelling synopsis that reflects the distinct perspective you want to convey through your white paper.
#5 Diving into the actual writing process
With a solid foundation of research and a compelling synopsis in place, your writers can now begin crafting the white paper. Throughout this process, they should keep the following guidelines in mind:
Adhere to an established structure: Following the agreed-upon outline (depending on your type of white-paper format described above) ensures a coherent and organized flow of ideas, making the content more accessible to readers.
Maintain an engaging, argumentative, and professional tone: strive to strike a balance between a captivating and persuasive style while maintaining a level of professionalism. This tone will keep readers interested and reinforce your brand's credibility.
Support claims with clear evidence: Defend every assertion made in the white paper with robust proof from your research. This demonstrates your commitment to accuracy and bolsters your argument.
Write concisely and avoid jargon: Opt for a concise, straight-to-the-point writing style that avoids unnecessary jargon or overly complex technical terms unfamiliar to your audience. Clarity is key to keeping readers engaged and ensuring they grasp your message.
Incorporate analogies and cultural references: Enhance your content by using relatable analogies and cultural references that resonate with your audience. These elements can help clarify complex ideas and create a stronger connection with your readers.
Deliver drafts of each section progressively: Instead of waiting for the entire white paper to be completed, submit drafts of each section as they are finished. This allows for a more efficient feedback process and enables improvements to be made as you go.
#6 Designing and refining the white paper visual template
With the final draft in hand, it's time for your designer to create the visual template for your white paper. As some designers may not be familiar with this format, provide the following recommendations to ensure an effective and reader-friendly design:
Prioritize text readability: Ensure that the text is given ample space and prominence. Choose a readable font (aligned with your brand kit) that allows readers to easily navigate through the content.
Incorporate engaging visuals: Add relevant images, graphs, and charts that contribute to the discussion or help illustrate key data points and proposed solutions.
Use bullet points to lighten the reading experience: break up long paragraphs or complex ideas to make the content more digestible.
Maximize every page: utilize each page to deliver valuable content, avoiding blank spaces that may interrupt the flow of information.
Be mindful of page breaks: pay attention to how content flows from one page to the next, ensuring a smooth transition and making it easier for readers to follow along.
By following these guidelines, your designer will create a visually appealing and reader-friendly white paper that effectively communicates your message.
#7 Promoting your white paper effectively
No matter how compelling your white paper is, it won't sell itself. To ensure its success, you need to actively promote and distribute your content through various channels:
SEO: Create extracts from your white paper to be used as keyword-optimized blog posts, ensuring your content is easily discoverable through search engines.
Social Media: Share opinion posts, expert quotes, or infographics from your white paper to engage your audience. Encourage your subject matter experts to speak for themselves on their social media accounts, highlighting their expertise.
Videos: Produce video interviews with your experts discussing the subject matter, giving your audience an alternative format to engage with your content.
Newsletters: Include your white paper in your company newsletters or send it directly to potentially interested prospects.
Dedicated Website: Create a dedicated website for the white paper's subject, featuring other related content to provide a comprehensive resource for your audience.
By leveraging these promotional strategies, you'll maximize the reach and impact of your white paper, ensuring it reaches the right audience and delivers the desired results.
Examples of Compelling and High-Performing White Paper
Product White Paper – Microsoft – Migrating to Azure: a resource guide for your database migration
Microsoft's white paper is a great example of a product white paper for several reasons:
A problem-centered product presentation: The white paper focuses on Microsoft Azure Cloud while addressing a crucial problem for IT managers – ensuring a successful database migration.
Actionable steps: It presents four actionable steps to facilitate the smooth adoption of this sophisticated technology, providing readers with a clear and easy-to-understand visual framework.
Concrete use cases: The document offers real-world examples, allowing readers to draw comparisons and better envision the process for their own situations.
Clear call-to-action: The white paper concludes with a straightforward call-to-action section, guiding readers on the next steps to take advantage of Microsoft Azure Cloud's capabilities.
The white paper alleviates readers' concerns about integrating Microsoft Cloud into their technology infrastructure by providing clear guidance and actionable steps.
Numbered List White Paper – Fresh Books – 6 Smart Steps to Future-Proof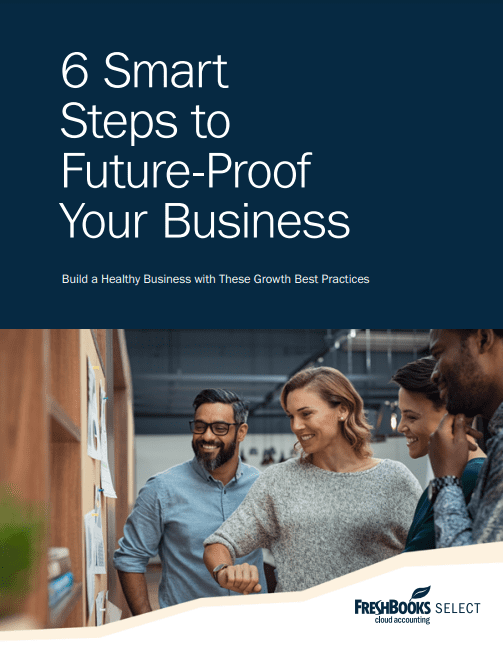 The Fresh Book's white paper is a compelling example of a numbered list white paper for several reasons:
Addresses the target audience's problem: The white paper effectively presents the main challenge faced by small and medium business owners – how to focus their time and energy on growth-driving activities while outsourcing the rest.
Clear recommendations: It offers six well-defined recommendations, each supported by engaging bullet points and even bonus tips for those who want to delve deeper into the subject matter.
Simple and straightforward writing style: The content is written in an easy-to-read and digestible manner, making it accessible to a wide range of readers.
Visual framework: The white paper includes a "growth plan" visual framework to help guide business owners on their path to growth and success.
By incorporating these elements, the white paper effectively engages business owners and provides actionable insights to help future-proof their businesses.
Research White Paper – Content Marketing Institute – B2B Content Marketing Benchmark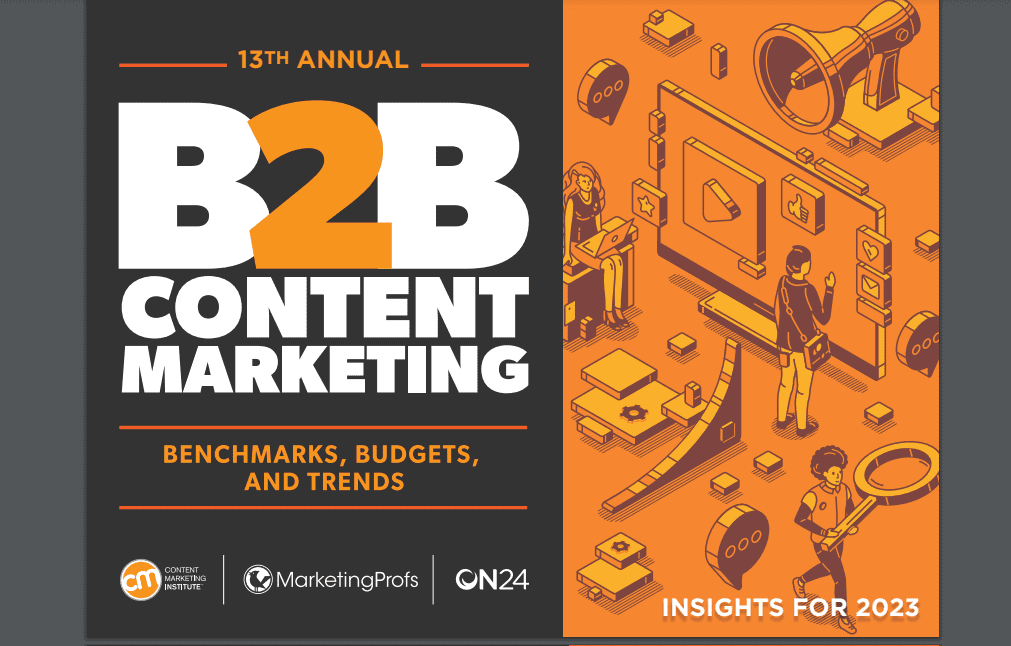 The Content Marketing Institute's yearly benchmark demonstrates every feature of an outstanding research white paper:
Comprehensive and documented data: The white paper provides an in-depth analysis of the state of B2B marketing, addressing various challenges B2B marketers face in their content marketing projects, such as staffing, budget, performance metrics, and operations. This well-researched information offers valuable insights to its target audience.
Clear presentation of data: The white paper features clear and engaging graphs, along with explanations that help readers understand the data easily. This visual representation of information makes the white paper more accessible and appealing to its audience.
Key takeaways and trends: The white paper offers key takeaways for marketers, providing insights on areas for improvement and highlighting upcoming trends in the industry. This actionable information helps readers make informed decisions and stay ahead of the curve.
Analysis of the best performers: By examining the practices of top-performing B2B marketers, the white paper offers insights into what works well and what can be emulated to achieve success in content marketing. This comparative analysis helps readers understand the benchmarks and ideal practices in the industry.
Synthesis and path forward: The white paper concludes with a synthesis that offers content marketers a clear path forward, providing a compelling perspective on the practice of content marketing.
Thought Leadership White Paper – Founder Intelligence and Diversity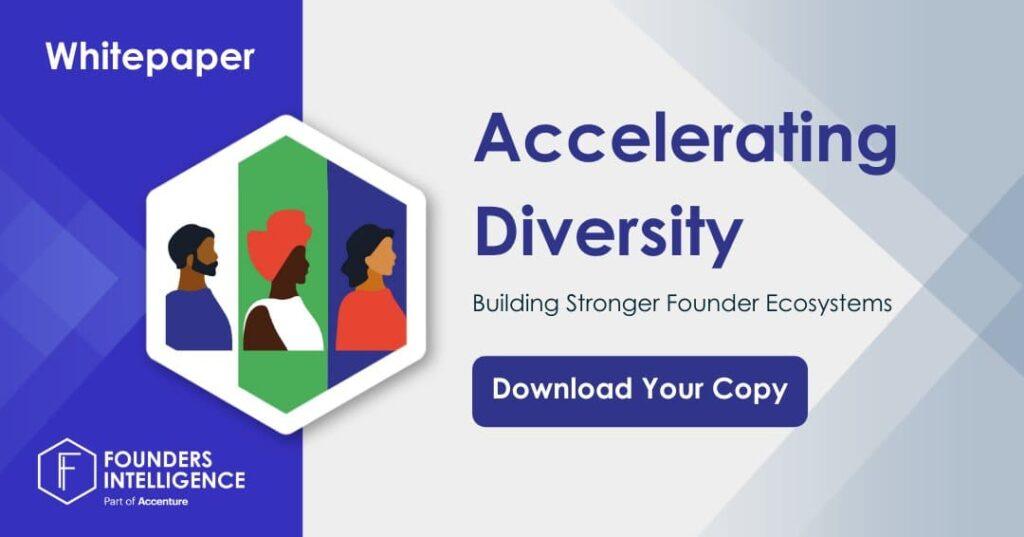 The "Founder Intelligence and Diversity" white paper shows every aspect of a great Thought Leadership white paper:
Forward-thinking issue: The white paper addresses the important and timely issue of increasing diversity in the founder ecosystem, highlighting its significance for startup accelerators through a strong executive summary.
Data-backed analysis: The white paper presents a thorough analysis of three possible solutions to the diversity challenge, supported by quotes from executives and relevant data. This evidence-based approach adds credibility to the proposed solutions and demonstrates the authors' expertise on the subject.
Actionable agenda: At the end of each section, the white paper offers practical recommendations for readers to implement the solutions within their organizations. These actionable steps provide a clear path for readers to follow and make the content more valuable.
Engaging and eye-pleasing visual format: The white paper is designed with visually appealing elements that make the content more enjoyable to read and easier to digest. The attractive presentation enhances the overall reading experience and helps convey the message more effectively.
---
Now you have everything in your hands to successfully lead a white paper project!