"Thought leader" can feel like an overblown designation. Who can pretend to "lead" the thinking of people? 
Yet, the impact of recognized thought leaders is real. Appreciated by their peers, these individuals bring a new vision of their industry, influencing minds and pushing them for action and change.
Here are 12 examples of great thought leaders. It will help you get a concrete picture of what a thought leader looks like.
What defines a Great Thought Leader?
It can be difficult to pinpoint what makes exactly a "thought leader". In an era of personal branding, many professionals proclaim themselves thought leaders. But you don't establish yourself as a thought leader, rather you become recognized as one by your community.
The following traits can help you identify a true thought leader:
They are known for a new vision that has become mainstream in their industry.
They produce high-quality and successful content: viral social media posts, best-selling books, popular podcast…
They gather a wide audience and an engaged community on social media, or via events or books.
Where can you find thought leaders?
Thought leaders can be visible in both digital and non-digital channels. You can spot them by reviewing places such as:
Social media: look at the most popular posts on your topics.
Google: check the most visited and best-ranked blogs on your topics.
Events: look for the most prestigious guests at the biggest events in your industry.
Media: find out who are the most featured speakers on media & outlets in your market.
Bookshelves: see what are the bestsellers on your topics and who's authoring them.
Top 12 Thought Leaders in every industry
Every industry and niche has designated thought leadership influencing current and future trends. Let's see some remarkable examples to give you a sense of what they look like.
David Green – HR Thought Leader

David Green is a renowned HR consultant advocating for a novel HR practice: people analytics. With its consulting firm Insight222, he wants to help chief human resources officers improve talent recruitment and employee experience using data. He provides them with the tools to collect, analyze, and active data in their organization, and to make more rational decisions.
Why is he a great thought leader?
Promotes and teaches professionals about a forward-thinking trend: leveraging data in HR operations.
Authored a best-selling book and hosts a popular podcast.
Gathered an extensive and engaged audience on his LinkedIn account.
Mari Smith – Marketing Thought Leader
Mari Smith's vision is all about the power of Facebook to build a small business. She abundantly shares her advice and tips on how to nurture and engage B2C audience on social media. As a long-standing Facebook expert, she knows all the tricks of the algorithms, and keeps social media marketers updated on the latest changes.
Why is she a great thought leader?
She shares a compelling vision of social media marketing: create an intimate long-term relationship with your audience.
She gathered a significant audience on her Facebook account and newsletters
She spreads her words and put her method into practice with her consulting firm.
Kevin Dorsey – Sales Thought Leader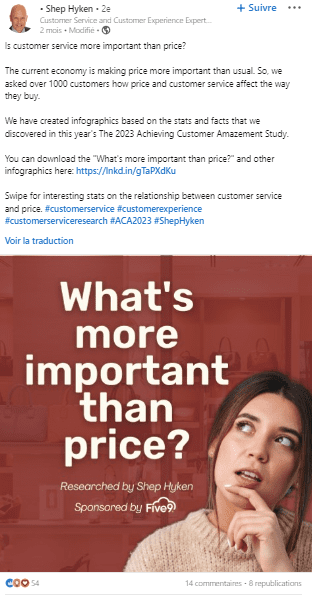 Kevin Dorsey has timeless advice for sales teams: focus first on the people you have in front of you, not the business. He never stops to encourage sales reps to look for the pain points of the prospects and listen to their problems. He's coaching a variety of sales leaders on their processes and systems, and believes in the continuous skills development for each member.
Why is he a great thought leader?
One of the strongest proponents of people-focused selling, a renowned selling method.
Put together a wide audience on his LinkedIn account
Shares his advice on a best-selling Udemy course and award-winning sales coach
Shep Hyken – Customer Experience Thought Leader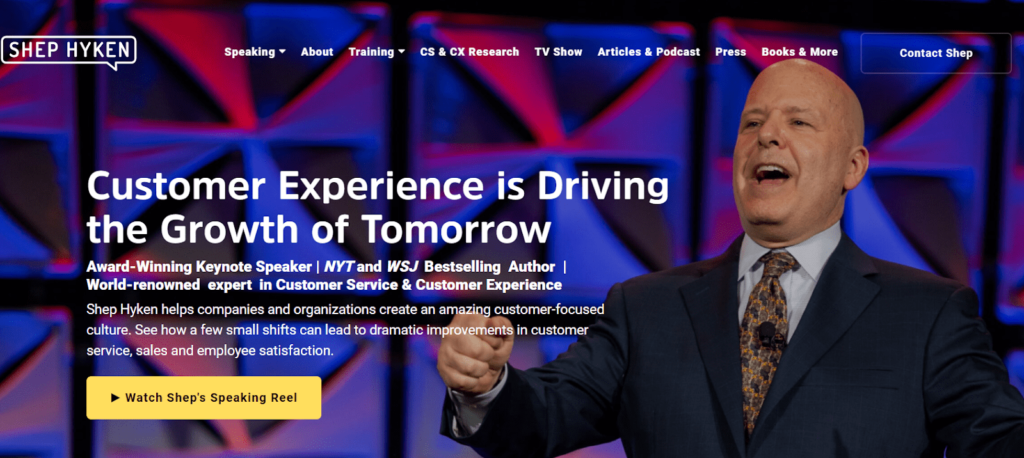 Shep Hyken is a vocal authority on ensuring an amazing customer experience every day. He advocates in multiple formats and angles the benefits for companies to achieve "customer amazement". What he loves the most is convincing decision-makers to put customer sentiment and appreciation at the center of their company's initiatives.
Why is he a great thought leader?
He advocates a strong vision of customer service: making sure customers are always amazed and never disappointed.
He made himself known as one of the most talented keynote speaker.
He wrote best-selling books about CX experience.
Bob Sutton – Management Thought Leader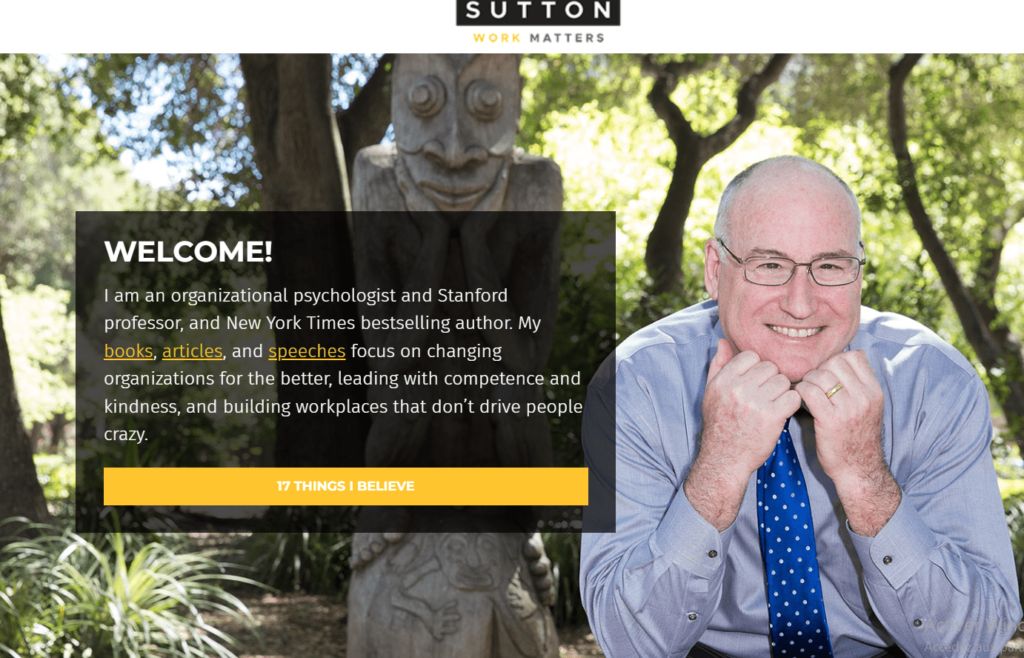 Bob Sutton has dedicated his work to spot what he calls "assholes" in companies. He reveals the damages that bad managers cause to an organization, and what can be done to reduce their impact. He has studied all his life the key elements of successful and motivating management practices.
He is one of the first voices to expose the systematic impact of bad management.
He published numerous best-selling management books.
He is a renowned Standford professor and a talented speaker.
Indie Young – Product Design Thought Leader
Indie Young pioneers a qualitative and inclusive approach to UX design. She advocates for the use of qualitative data and user interviews to make your product accessible to a wide range of users. She believes that people have different thinking styles that UX designers should take into account in their development.
Why is she a great thought leader?
She provides a more inclusive approach to user experience: the power of deeply listening to how your users cognitively apprehend your product.
She wrote a book, has taken part in many talks and webinars, and shared many LinkedIn and Medium posts to spread the word about qualitative UX.
She delivers training sessions and consulting services to big companies to educate them on her product design method.
Brent Darnell – Construction Thought Leader
Brent Darnell knows the Construction industry has a people problem. While work expectations are changing, construction companies are still relying on the "tough guys" to do the job. Brent wants them to embrace a more collaborative approach based on diversity and emotional intelligence.
Why is he a great thought leader?
He changes the construction industry mindset: ditching the alpha males and promoting the service-focused workers.
He sells publicly recognized online courses and masterclasses.
He delivers leadership programs to executives.
Geni Whitehouse – Accounting Thought Leader
Geni Whitehouse wants to make accounting less boring. She gives accountants tips and tricks to get rid of jargon and make numbers concrete and impactful. She teaches them how to be a true advisor for their clients' businesses.
Why is she a great thought leader?
She teaches the accounting industry how to tell stories with numbers for their clients.
She delivers high-end keynote speeches and popular online courses.
She gathers a wide audience on her social media accounts.
John Dyck – Manufacturing Thought Leader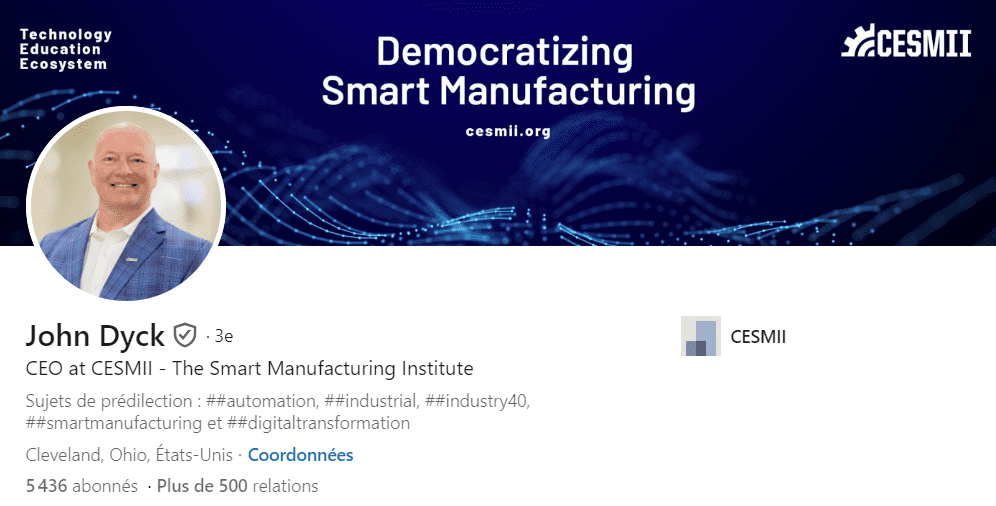 John Dyck believes in the power of data and digitalization to revitalize the US manufacturing sector. He wants manufacturers to invest in sensing and automating capabilities and the education and training needed for their workforce to adapt. He's a strong advocate of Industry 4.0 and of empowered factories.
Why is he a great thought leader?
One of the most prominent voices for US manufacturing digitalization.
He founded a non-profit organization dedicated to promoting Smart Manufacturing.
He is a frequent keynote speaker and webinar guest.
Rachel Tobac – Cybersecurity Thought Leader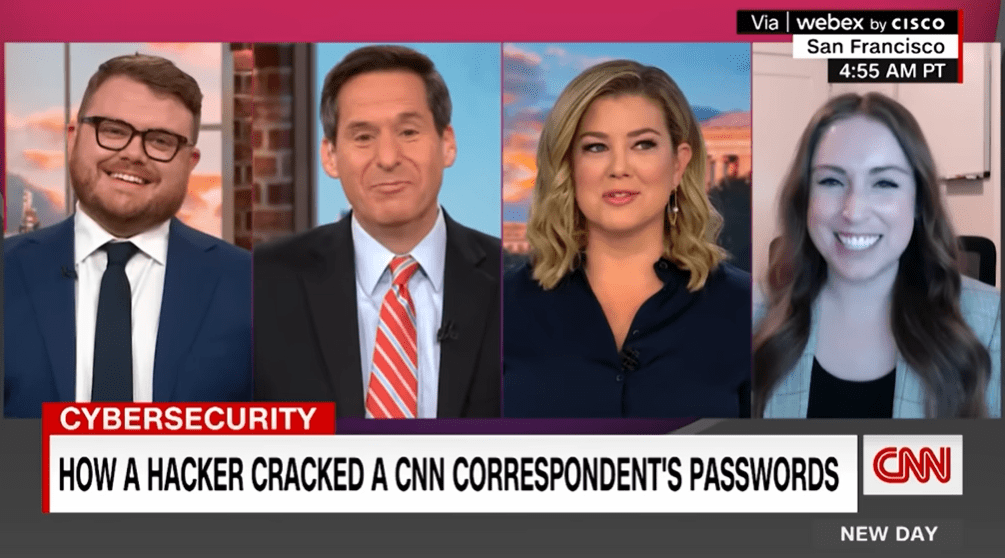 Rachel Tobac is a vocal authority on cybersecurity threats. Through webinars, speaking events, or even on TV, she frequently alerts companies on how cybercriminals can steal their data and disrupt their service. She persuasively shows organizations how to take preventive measures, train employees, and protect themselves from these attacks.
Why is she a great thought leader?
A public authority on the topic of cybersecurity threats and social engineering.
She regularly appears on national TV channels and news outlets to warn people about cyberthreats.
She engages a wide community of professionals on her social media accounts.
Whitney Johnson – Leadership Thought Leader
Whitney Johnson wants to help companies' leaders adopt a growth mindset for themselves and for their organizations. She pushes her students to not settle for a career path, but to always look for new opportunities and take new risks. She argues that success comes to people who are disrupting their careers and lives.
Why is she a great thought leader?
She has launched a strong self-improvement trend: personal disruption.
She hosts a popular podcast and wrote best-selling books.
She owns an executive coaching company and gathers a wide audience around her social media posts.
Bernard Marr – Tech Thought Leader
Bernard Marr is a renowned tech enthusiast who makes new technologies accessible to business leaders. He was especially a key proponent of the use of Big Data to generate business value. He forecasts new tech trends and explains to business leaders how to leverage these new opportunities.
Why is he a great thought leader?
He was a major advocate of Big Data and other high-influence tech trends in the business realm.
He wrote many best-selling books and features frequently on big business publications.
He produces articles, podcasts, social media posts that are read by millions of followers and fans.
---
Now you see what a true thought leader looks like. Try collaborating with them in your next thought leadership campaign!